----( PALight / Safe-Light Products )----[ PALight Accessories ]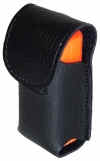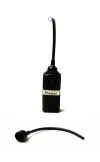 Magnet Band Vinyl Holster Fabric Lanyard Fiber Optic Alarm Whistle
Images of popular PALight Flashlight Accessories
Enhance your PALights with these custom accessories and replacement batteries.
A variety of holsters, lanyards and bands provide handy transport for your PALights.
The new Fiber Optic Tube Attachment provides a flexible extension that turns your
PALight into a handy inspection tool, great for checking gun barrels or small tubing.

The latest accessory for the PALight Survival and other soft-body PALight models
is the new one-hand fast-draw holster. Left- or right-handed users can lift its cover
flap and push the flashlight into the palm using just one hand. Holes in the ends of
the flexible black holster let you attach it to a belt, so that the light shines forward to
light your way, or rearward in flashing mode as a warning signal. This is excellent
for children, cyclists, pet walkers and others who need to see and be seen at night.

See the Alkaline 9V Battery and Lithium 9V Battery pages for complete details on
our top-quality replacement batteries, including links to engineering specifications.

These accessories work with all of the PALights available at Flashlights Unlimited
(except the Mark II and Workman, which do not accept the lanyard or signal cones).
The new PALight Safe-Light and HUMVEE models are just a little bit too large for
use with the one-hand fast-draw holster, but work perfectly with the clip-on lanyard.

See the PALight Comparisons page to compare various PALight model features.
Note that some older PALight models will not accept the lanyards or carrying clips.

* Note that installing a Red Emergency Cone or White Signaling Cone (not shown
above) will require removal of the lens (pry it with a sharp object) on some models.
Use the red cone with white LED units, use the white cone with colored LED units.
Installation of a Fiber Optic Tube Attachment may also require removal of the lens.

Availability Note: As of September 2004, most PALights accessories will be dis-
continued by the factory. Items are available only while existing inventory remains.
| PALight Accessories | Item No | Unit Price |
| --- | --- | --- |
| PALight Black Fabric Clip-On Lanyard | PA-FCL | $ 1.95 |
| PALight One-Hand Fast-Draw Holster | PA-OFH | $ 4.95 |
| PALight Red Emergency Cone * | PA-REC | $ 1.95 |
| PALight White Signaling Cone * | PA-WSC | $ 1.95 |
| PALight Black Vinyl Belt-Clip Holster | PA-VBH | $ 4.95 |
| PALight Fox 40 Ultra-Loud Alarm Whistle | PA-FAW | $ 4.95 |
| PALight Fiber Optic Tube Attachment * | PA-FOT | $ 4.95 |
| PALight Stainless Steel Band With Magnet | PA-SBM | $ 4.95 |
| Energizer Alkaline 9V Replacement Battery | BA-9VE-1 | $ 1.95 |
| Ultralife Lithium 9V Replacement Battery | BL-9VU-1 | $ 6.95 |

Click an Add To Cart or Back Order button to place an item in the shopping cart, for purchase with
your credit card or debit card. Add To Cart items are usually in stock, and typically arrive within
one week. Back Order items aren't always in stock, but usually arrive within just two weeks.
Click a View Cart button to review the shopping cart contents and/or complete your order.
Click any underscored Item No to review the associated product detail page or image.
See the Order Info page for complete details on ordering, payment, and shipping.
* Installation of emergency or signaling cone may require removal of the lens.



----( PALight / Safe-Light Products )----[ PALight Accessories ]