----( Floyd's Famous Iced Tea )----( Kyodai Mahjongg Tilesets )


----( Chocolatier Locator Matrices )----( Worcesternaise & Uniredsauce )
Okay, so this isn't about flashlights. Or is it? Flashlights Unlimited is the essential core
of my daily life. And I would not be able to start (much less finish) any given day without
a refreshing glass of iced tea. Other beverages (lowfat milk, fruit juices, canned sodas)
are occasional changes of pace, but sweet iced tea is my ultimate "water of life" (if you
will forgive the blatant Dune reference). My own homemade brew is widely known and
greatly beloved by friends and family. So herein below you will find the "ancient" recipe,
not a secret to be carefully sequestered, but rather an indulgence to be caringly shared.
As it happens, you can brew superb iced tea in a hurry with your everyday coffeemaker,
without the need for a brew pot and a hot stove, and without a pricey separate machine.

Equipment:
1 electric drip coffeemaker
1 plastic one-gallon pitcher
1 long wood stirring spoon

Ingredients:
1 gallon filtered tap water
3 family size premium tea bags
7/8 cup granulated white sugar
1/8 cup granulated dark brown sugar
1 teaspoon wild flower honey (optional)
1 individual size flavored tea bag (optional)

Instructions:
The crucial element for success of this recipe is an electric drip coffeemaker. It makes
the task quick and easy, and seems to provide the perfect temperature for brewing tea.
Use three premium quality family size tea bags. Each major national brand has its own
distinctive flavor, so choose your favorite (if unsure about the best brand, trust your nose
and select the most pleasing aroma). Some store brands are quite excellent, but avoid
the bottom tier of low cost generics (for both tea bags and sugar). Fill the reservoir with
the maximum amount of filtered tap water (usually 10 or 12 cups). Some bottled waters
have added minerals, and those may distort the taste of the finished product. Place the
three tea bags directly into the glass carafe, not into the plastic brew basket. If flavored
tea is desired, place just one small bag of the specialty tea into the plastic brew basket.
Trust me, you will only need one of the single cup size tea bags for flavoring, especially
if the essence is a potent one, such as bergamot or cinnamon & cloves. Push the Start
button and let the coffeemaker do its thing. Meanwhile, rinse the one-gallon pitcher and
pour in both of the sugars (and the optional dollop of honey, if desired). When the brew
cycle has completed, let the tea steep for five to ten minutes (but no longer, because the
flavor will degrade sharply if the tea is over-brewed). Pour the brewed tea slowly into the
pitcher, being sure to hold the carafe lid so that the bags do not fall out, then let the bags
drain completely into the pitcher. Dispose of the spent tea bags, then thoroughly rinse
the carafe before returning it to the coffeemaker. Very gradually add more filtered tap
water to the pitcher, while stirring gently but deeply with the wooden spoon, until it is fully
filled. Cover the pitcher with its plastic lid (or use clingy wrap), and refrigerate until frigid.
Serve over cubed or cracked ice, in tall slender glasses. Garnish with a sprig of garden-
grown mint, or add a slice of freshly cut lemon. Or better yet, try a slice of freshly cut lime
(a delightful variation that I happily discovered some years ago in a Mexican restaurant).

Okay, all that stuff about not letting it brew for more than ten minutes is perhaps the elitist
viewpoint that focuses on perfect flavor. However, it should be mentioned that there may
also be a grunge viewpoint that focuses on hardcore strength (let the flavor be damned).
The result is tea with a color closer to that of strong coffee. For this intense beverage, let
the tea steep for about two hours. Very gently swish the carafe, maybe a couple of times
every few minutes, then return the carafe to the burner. Leave the burner turned on if you
want maximum strength (and can stand the toasty flavor). This shit will wake your ass up!
For those of you who are easily offended by strong language, please accept my apology,
but any milder phrases cannot describe the mind-bending tea that can be made this way.
And wait, there's more! Remember how you can place a single-cup-size bag of flavored
tea into the brew basket? Instead, try putting three single-cup-size bags of green tea into
the brew basket. This should really kick up the antioxidant flavonoid concentration, which
may bestow significant health benefits. Note that the longer you brew the tea, the more of
these beneficial flavonoids it will contain. So when the primary brew cycle is done, move
those three green tea bags from the brew basket to the carafe, then do a two-hour steep.



There is no denying it. There are countless thousands of us in cyberspace, who relax
away some of our leisure hours playing Kyodai Mahjongg. Regarded by many to be
the most sophisticated and appealing computerized version of the popular tile match-
ing solitaire game, Kyodai Mahjongg was developed by Naoki Haga in 1997. He has
improved and enhanced the game frequently over the past decade, and the latest ver-
sion is truly stunning, revealing levels of finesse and detail that are rarely seen in even
the most expensive software. A variety of beautiful background images are combined
with intricately rendered 3D game tiles and an assortment of hauntingly soothing melo-
dies, to yield an extraordinarily customizable, and highly addictive, gaming experience.

As an early adopter of Kyodai Mahjongg, I was delighted by the feature that allowed a
user to implement custom sets of game tiles (tilesets) suited to personal artistic tastes.
Marc Lesselberg (one of the game's original tile artists) operated a website (offline as
of 2004) that kindly provided a forum for interchange and free distribution of interesting
new tilesets that had been created by adoring users. Many others have taken the task,
and now there are hundreds of tilesets and backgrounds available for Kyodai, and with
themes and styles that are as widely varied as the interests of users that created them.

During 2001, I created ten similar tilesets for Kyodai Mahjongg, all with a crisp techno-
logical appearance, and these were originally released on Marc Lesselberg's website.
I am providing them here as compressed ZIP files in two different source formats. The
set of BMP images is provided for those who may wish to tweak the individual tiles by
using Microsoft Paint or some other bitmap editor, but the expanded files will consume
about two and a half megabytes of disk space. The set of JPG images is provided for
users who like the tiles as they are, and although the downloadable ZIP file is larger, its
extracted source files will take up less than a megabyte of hard disk. Kyodai can read
the extracted image files from either of these two source formats. Download the file of
your choice using one of the links provided below, then unzip that compressed file into
the Kyodai Mahjongg tilesets folder (C:\Program Files\Kyodai Mahjongg 2006\Tilesets
is the default folder name created during installation of the current version of the game).

KyodaiTechnoTilesets-bmp.zip - BMP bitmap image format - 74 KB (75,952 bytes)

KyodaiTechnoTilesets-jpg.zip - JPG photo image format - 691 KB (707,755 bytes)

Either of the two ZIP files will yield the following ten tileset image files upon extraction:
Metal Tech Metal Text Brushed Gold Brushed Silver Golden Teak
Silver Oak Midnight Azure Midnight Scarlet Neon Ebonite Neon Graphite
Check them out by clicking above, keep the ones you like, and discard any you don't.
If your web browser or anti-malware protection prohibits download of the zip files, you
can open the individual image files above and download them to your tileset directory.
These tilesets are provided completely free of charge and do not require registration,
but of course there is no warranty of suitability or liability for performance whatsoever.

If you do not have the Kyodai Mahjongg game software, you can read all about it and
download the latest shareware or registered versions from the Cyna Games website.
If you like solitaire games and enjoyed Taipei or Shanghai, Kyodai Mahjongg is sure
to keep your downtime pleasurably filled with its wonderful array of sights and sounds.



Ever since early childhood, I have been hopelessly addicted to chocolate. In my
case, the cravings are every bit as intense as addictions to caffeine and tobacco.
You would not want to meet me on a day when I did not have access to chocolate.
For those who care to know, my particular passion is for the sweet and milk style
chocolates, rather than the semi-sweet dark or mild white types. But chocolate is
something that I must have daily, otherwise (Zork alert) you are likely to be eaten
by a grue if you dare enter my personal space while my chocolate pantry is bare.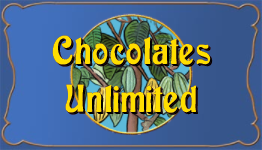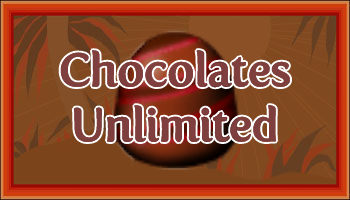 So when I came across a computer game that involved manufacturing chocolates,
I just had to give it a try. I found the original Chocolatier game (developed by Big
Splash Games and published by PlayFirst) to be both colorful and interesting. It is
a task management strategy game, but its time constraints are reasonable and in
contexts that make this game less uncomfortable than some others in the genre. It
is possible to complete this game even if you can't click accurately on 300 objects
per minute (unlike some time management games that require the extreme mental
and manual dexterity of a twelve-year-old, without which you get stuck half-way into
the game). The steampunk cartoon styling is attractive, and an evolving back story
helps to knit goal assignments together effectively. The second and third games in
the series carry it forward, with additional enhancements, while continuing with the
same characters (and later their progeny) and story line. The third game even lets
you design your own confections and beverages from scratch, specifying first the
ingredients to be used, and then the colors and appearance details for each item.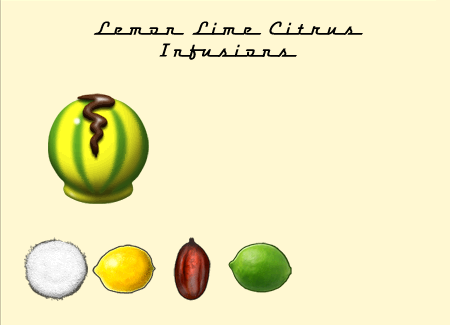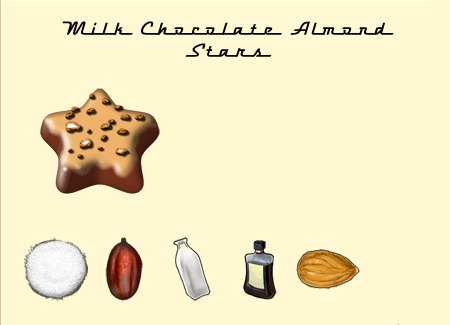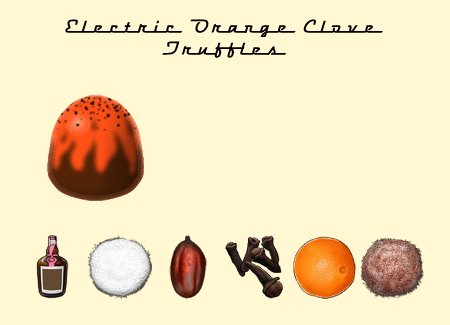 One of the significant challenges in all of the Chocolatier games is knowing where
to buy each specific ingredient. Each game requires a sizeable number of ingre-
dients (from two to five dozen, depending on which game), and each ingredient is
available in one or more locations (from over a dozen cities, scattered across the
globe). When a factory runs out of an ingredient and stalls, it is desirable to reach
the nearest possible city that will have that particular ingredient for sale. But it can
be difficult to remember which items are available where. You can waste several
weeks of valuable production time just by looking around, if you do not remember
(or have not yet found) the location of a particular ingredient. And while the games
all provide reminders of the "last seen in" city names, those locations can often be
far distant from your current location, requiring longer travel times and higher costs.

Folks who love the Chocolatier games are known to play them over and over again.
While playing Chocolatier 3 - Decadence By Design, I decided that it would be nice
(no, not just nice, but downright essential) to develop an ingredient locator matrix for
each game. This would allow any needed ingredient to be found quickly and easily,
either by cool-switching between the running game app and the open locator matrix
document, or by simply looking it up on a printed copy of the matrix. This seems to
be especially useful for Chocolatier 3, which has sixty different ingredients spread
across eighteen cities. Quickly locating the nearest sources for all of the items can
dramatically improve revenue growth, while greatly reducing goal completion times.

So, for those who are addicted to chocolate, and also addicted to Chocolatier, here
are my ingredient locator matrices, one for each of the three big Chocolatier games.
The files are provided in PDF format, viewable with the Adobe Reader application.
Chocolatier 1
22 ingredients, 14 locations, 1 page
Chocolatier-LocatorMatrix.pdf

Chocolatier 2 - Secret Ingredients
39 ingredients, 20 locations, 1 page
ChocolatierSecretIngredients-LocatorMatrix.pdf

Chocolatier 3 - Decadence By Design
60 ingredients, 18 locations, 2 pages
ChocolatierDecadenceByDesign-LocatorMatrix.pdf

As you use these guides, please remember that some of the ingredients will not be
available at the beginning of the game, and cannot be acquired until you have com-
pleted certain specific goals. A few of the ingredients (and indeed, a few locations)
may not become available until you are very near the ending of the game sequence.
The locator matrices above show the end-of-game availabilities for each ingredient.
If you find any errors or omissions (after you finish the games), please let me know.
The matrices are provided completely free of charge and do not require registration,
but of course there is no warranty of suitability or liability for performance whatsoever.



I tend to like my foods on the overly moist side. You know, like sandwiches with extra
mayonnaise, chips served with dips, pancakes utterly slathered with butter and maple
syrup, ice cream drenched with chocolate sauce. From time to time, I have needed a
zesty white or red sauce that was missing from the panty, and so just threw something
together. As a result, I have been making two very specific sauces for more than thirty
years. Try out these two quick and easy recipes, and then you can adjust them to suit
your specific tastes by tweaking the seasonings. Each requires just a common base
item (mayonnaise or ketchup), and a few other ingredients that will usually be on hand.
Both require worcestershire sauce, and this is probably the most critical flavoring item.

Worcestershire sauces tend to taste radically different from one brand to the next, and
if you have been using just one brand all your life (perhaps because your mom used it),
then you really owe it to yourself to check out some of the others. You might try another
one of the major name brands, and find yourself wondering how you ever tolerated your
first one over all those years. Or you might even try a specialty brand, and then wonder
how it could possibly be that the major brands got to be so popular, because your new
favorite specialty brand is so much better than they are. This will be strictly a matter of
personal tastes. As for me, my favorite brand is Panola (made in Louisiana, available
online). It has a robust but nicely balanced flavor, and the aroma is absolutely heavenly.

The universal red sauce is based on my mother's recipe for make-do barbeque sauce
(it was a favorite family condiment for decades). The off-white sauce is my own doing.
If you love these, or hate them, give me a shout, and let me know about any interesting
changes or additions that you may try (just so long as you don't tell me to add cilantro).

------------------------------------------------------------------------------------------------------------------------

Worcesternaise

Unexpected guests have arrived, but you don't have any dip for the chips! What to do?
Worcesternaise! In just about two minutes, you can whip up this tangy off-white sauce.
And this dip doesn't need short-shelf-life dairy items like sour cream or cream cheese,
so you can probably make it even if you haven't been to the grocery store yet this week.

Worcesternaise Ingredients:
1 cup mayonnaise
2 tablespoons worcestershire sauce
1 or 2 tablespoons yellow mustard
(or use a spicy brown mustard)
1 tablespoon grated parmesan
1/2 teaspoon seasoned salt
1/2 teaspoon lemon pepper

Worcesternaise Instructions:
Pour everything in a saucedish or fridgeware. Stir briskly with a fork until smooth.
Worcesternaise is the perfect dip for snack chips, bread sticks, cheese puffs, or
vegetable sticks. Note that the flavor may vary widely, due to the differing tastes
of various brands of mayonnaise and worcestershire sauce. Use your favorites.
Even some low-cost generic mayonnaises can be turned into truly delightful dip.
For some extra zip, stir in 1/2 teaspoon of dill pickle juice (trust me, this works).
Be sure to immediately refrigerate any unused portion, to keep the mayo fresh.

------------------------------------------------------------------------------------------------------------------------

Uniredsauce

The cookout party is today, but you forgot to buy bottled barbecue sauce! What to do?
Uniredsauce! Quickly whip up this delicious universal red sauce for all kinds of meats.
And as for meatloaf topping, do you find that canned tomato paste is too bland, or that
plain ketchup is too sweet? Uniredsauce will make your meatloafs the talk of the town!

Uniredsauce Ingredients:
1 cup ketchup
2 tablespoons worcestershire sauce
1 or 2 tablespoons yellow mustard
(or use a spicy brown mustard)
1 tablespoon dehydrated onion
1/2 teaspoon seasoned salt
1/2 teaspoon lemon pepper

Uniredsauce Instructions:
Pour everything in a saucedish or fridgeware. Stir briskly with a fork until color is con-
sistent, and then let it sit for about fifteen minutes, so the dried onions can rehydrate.
Uniredsause is wonderful for hamburgers, meatloaf, steaks, chops, ribs, chicken, or
even fishsticks. Also excellent as a dipping sauce for breadsticks or cheesesticks.
For some extra kick, stir in 1/2 teaspoon of your favorite bottled hot pepper sauce.
This pepper enhanced uniredsauce can even be used as a salsa for tortilla chips.
Refrigerate unused portions, or just munch out with yesterday's leftover fishsticks.




----( Floyd's Famous Iced Tea )----( Kyodai Mahjongg Tilesets )


----( Chocolatier Locator Matrices )----( Worcesternaise & Uniredsauce )