----( NightStar Products )----[ NightStar RS Induction Flashlight ]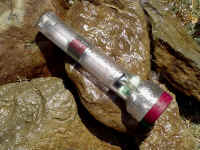 Image of the NightStar RS Battery-Free LED Flashlight
Availability Note: The NightStar RS model has been discontinued by the factory,
and is no longer available. We hope to have a new low-cost shake-up light soon.

The new RS model is a low-cost version of the small NightStar CS. Like its siblings,
NightStar RS uses the Faraday principle of induction to eliminate batteries forever.
Just shake the flashlight for one minute, get up to eight minutes of usable white light.
Now you can get the quality and performance of a NightStar for less than 15 dollars!

Unlike its many cheap imitators, the NightStar RS has many of the fine features of
the other NightStar models, including a floating waterproof body, StarCore™ LED
and custom optics, glow-in-the-dark switch, and anti-clack end repulsion magnets.
But the RS model has a less-expensive acrylic body instead of polycarbonate, and
it uses a smaller gold film storage capacitor so the runtime per shake-up is shorter.

The NightStar RS is available in a Micro Clear matte translucent finish (so you can
see the exquisitely engineered workings), with a deep red coil and front lens bezel.
The single cool white LED and special lens provide a smooth, well-focused beam.
An effective glow-in-the-dark thumb roller switch makes the flashlight easy to locate.
Durable acrylic body is moderately shock resistant and ignores salt water & alcohol.

Click the following link to view or download the full-color sales brochure for this model:
NightStarRSBrochure.pdf. Open with Adobe Acrobat (or free Adobe Acrobat Reader
program, which can be downloaded at no charge from the Adobe Systems web site).

When you first receive the new NightStar flashlight, please shake the unit for about
three minutes, to fully initialize the virgin charge storage capacitor. Thereafter, you
will only need to shake it for about a minute or so to get plenty of bright usable light.
This longer initial interval may also be needed if the flashlight remains unused over
very long periods of time. A strong magnet, or another NightStar flashlight in close
proximity, may turn on the switch for NightStar models that have a magnetic switch.

Need a larger flashlight that requires less shaking to provide even longer runtimes?
Try the powerful NightStar 4. An optional nylon holster and wall mount are available.

Pricing Alert!! The factory has dramatically reduced our prices for the outstanding
NightStar flashlights. Check out our amazing new unit price and quantity discounts.

Warnings: A powerful magnet and induction coil charge the storage capacitor when
you shake the flashlight. Because this flashlight creates strong magnetic fields, it is
not intended for use near computer equipment or magnetic audio/video/data media,
and should not be used in close proximity to persons wearing a cardiac pacemaker.
Please keep it safely away from your credit cards, video tapes and audio cassettes.
NightStar quality and features, in a light-weight, low-cost torch.
Small size fits easily in your tool box, glove box, or vest pocket.
Zero long-term operating cost, no batteries or bulbs to replace.
Lasts for years, one moving part, no breakable gears or levers.
Bright StarCore™ LED delivers up to 720 foot-candles of light.
Uniformly illuminates 12 foot diameter area at 50 foot distance.
Shake one minute for 2-3 mins bright light, 8 mins usable light.
Customized front lens focuses the beam and protects the LED.
Patented optical elements include the special conical reflector.
External roller actuates a reliable sealed magnetic reed switch.
Luminescent roller switch will glow in the dark for several hours.
Durable clear acrylic case is resistant to salt water and alcohol.
Premium-quality 1.0 Farad gold film storage capacitor,
does not degrade over time like rechargeable batteries.
Powerful rare earth charge magnet and precision induction coil.
Two repulsion magnets make shaking smooth and low-impact.
Flashlight is 7.0" long, and weighs just 5.4 ounces (152 grams).
Operates perfectly in extreme temperatures (-40°F to +130°F).
Floats in water, with LED in upright position for easier retrieval.
Tested waterproof to ocean depth of more than 40 feet.
Typical LED operating life is tens of thousands of hours.
Capacitor life is hundreds of thousands of charge cycles.
Micro-clear translucent finish body with deep red lens bezel.
Five-year limited warranty from Applied Innovative Technologies.
Suggested List Price: $14.95 - Our Closeout Prices: $11.95 Or Less!

NightStar RS Flashlights
Item No
Unit Price
NightStar RS Flashlight - White LED - Micro Clear
NS-R-C
$ 11.95
NightStar RS Flashlight - Three Pack
NS-R-C3
$ 32.85
Save $3.00!
NightStar RS Flashlight - Six Pack
NS-R-C6
$ 59.70
Save $12.00!

Click an Add To Cart or Back Order button to place an item in the shopping cart, for purchase with
your credit card or debit card. Add To Cart items are usually in stock, and typically arrive within
one week. Back Order items are not always in stock, but usually arrive within 2 to 3 weeks.
Click a View Cart button to review the shopping cart contents and/or complete your order.
Click any underscored Item No to review the associated product detail page or image.
See the Order Info page for complete details on ordering, payment, and shipping.


----( NightStar Products )----[ NightStar RS Induction Flashlight ]