----( NightStar Products )----[ NightStar 4 Induction Flashlight ]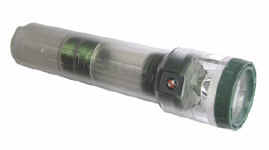 Image of the NightStar 4 Battery-Free LED Flashlight
Images of the NightStar LightHolder and NightStar LightHolster Accessories
Availability Note: The NightStar 4 model has been discontinued by the factory,
at least temporarily. Glow wall mounts and nylon belt holsters are still available.
Visit this website regularly to check for changes in availability of the NightStar 4.

Ever since the original NightStar flashlight was released years ago, the NightStar
brand has been the premier line of shake-up flashlights. The NightStar flashlights
have consistently delivered brighter output, longer runtime, superior features, and
greater reliability than other shake-up torches. The newly improved NightStar 4
model continues this long-standing tradition of superb quality and superlative per-
formance, with its compact size, innovative features, and new dual beam modes.

The water-resistant, shock-resistant, multi-purpose LED flashlight with a difference,
NightStar 4 utilizes the Faraday principle of induction to eliminate batteries forever.
Just shake the flashlight for 60 seconds, get up to 20 minutes of usable white light.
Its single cool white LED and a special lens deliver a bright, useful, focused beam.
The new NightStar 4 has a silent and reliable pushbutton switch, and it provides a
handy flashing beacon mode, so you can call attention to your location or situation.
Optional glow-in-the-dark wall mount and nylon belt holster accessories (that can
also used with earlier NightStar models) are available and very reasonably priced.

The low-cost knock-off shake-up flashlights out there are cheap for a reason. Don't
waste your money on a flimsy light that can't deliver a decent beam when you need
it most. Get a NightStar 4 instead, and be ready for emergencies with reliable light.
NightStar flashlights are perfect for overseas social services and disaster relief per-
sonnel, because they will operate reliably for years, in the most hostile weather and
environments, without batteries, in locations that have no infrastructure whatsoever.
They're also excellent for outdoor recreation (hiking, backpacking, caving, boating,
and more), and the best survival lights available because they never need batteries
or bulbs and will operate perfectly in sweltering heat, sub-zero cold, or soaking rain.
No need to worry about leaking batteries when you leave a NightStar 4 in your car's
glove box in the middle of the hottest desert summers, because it has NO batteries.

As with all NightStar models, if the flashlight is not used for long periods (one week
or more, or when newly purchased), you may need to shake the flashlight for up to
three minutes to reinitialize the charge storage capacitor. Thereafter, it will deliver
reliable lighting, with just 60 seconds of gentle shaking action needed to recharge.

Warnings: A powerful magnet and induction coil charge the storage capacitor when
you shake the flashlight. Because this flashlight creates strong magnetic fields, it is
not intended for use near computer equipment or magnetic audio/video/data media,
and should not be used in close proximity to persons wearing a cardiac pacemaker.
Please keep it safely away from your credit cards, video tapes and audio cassettes.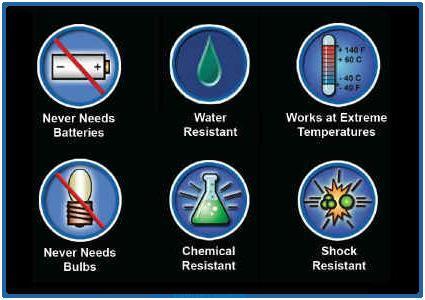 Zero long-term operating cost, no batteries or bulbs to replace.
Lasts for years, one moving part, no breakable gears or levers.
Bright StarCore™ LED delivers up to 16,000 lux, 12.8 lumens.
Uniformly illuminates 12 foot diameter area at 40 foot distance.
Shake the flashlight moderately for just 60 seconds, to get five
to ten minutes of bright light, up to twenty minutes of useful light.
Dramatically brighter and longer-running than original NightStar.
Customized front lens focuses the beam and protects the LED.
Patented optical elements include the special conical reflector.
The latest model has a new silent membrane pushbutton switch.
Press the switch once for constant beam, press a second time
for the new flashing beacon mode, and a third time to turn it off.
Flashlight is 7.8" long, and weighs just 8.4 ounces (230 grams).
Operates perfectly in extreme temperatures (-40°F to +140°F).
Powerful rare earth charge magnet and precision induction coil.
Dual repulsion magnets make shaking smooth and low-impact.
Premium-quality storage capacitor does not degrade over time
like rechargeable batteries, and it will never need replacement.
Body is resistant to salt water, motor oil, diesel fuel, and more.
Floats in water, with light in upright position for easier retrieval.
Body is water resistant, and immune to all weather conditions.
Not intended for long-term submersion, nor use as a dive light.
Handsome new satin translucent finish with forest green bezel
and accents, lets you see the flashlight's charging components.
Typical LED operating life is tens of thousands of hours.
Capacitor life is hundreds of thousands of charge cycles.
An optional multi-purpose belt holster is available separately.
An optional glow-in-the-dark wall mount is available separately.
Five-year limited warranty from Applied Innovative Technologies.
Suggested List Price: $29.95 - Our Sale Prices $22.95 Or Less!

NightStar 4 Flashlights
Item No
Unit Price
NightStar 4 Flashlight - Latest Model
White LED - Satin Translucent Body
Forest Green Bezel & Charging Coil
Dual-Modes, Pushbutton Membrane Switch
NS-4
$ 24.95
NightStar 4 Flashlight Accessories
Item No
Unit Price
NightStar Light Holster
Nylon Belt Holster - Deep Blue / Black
with belt clip and covered pouch on back
NS-A-LH
$ 3.95
NightStar Light Holster
Nylon Belt Holster - Twelve Pack
with belt clip and covered pouch on back
NS-A-LH12
Save $ 6.00 !
$ 41.40
$ 3.45 Each
NightStar Light Finder
Glow Wall Mount - Putty / Green Glow
with mounting screws and plastic anchors
NS-A-LF
$ 4.95
NightStar Light Finder
Glow Wall Mount - Twelve Pack
with mounting screws and plastic anchors
NS-A-LF12
Save $ 6.00 !
$ 53.40
$ 4.45 Each

Click an Add To Cart or Back Order button to place an item in the shopping cart, for purchase with
your credit card or debit card. Add To Cart items are usually in stock, and typically arrive within
one week. Back Order items are not always in stock, but usually arrive within 2 to 3 weeks.
Click a View Cart button to review the shopping cart contents and/or complete your order.
Click any underscored Item No to review the associated product detail page or image.
See the Order Info page for complete details on ordering, payment, and shipping.


----( NightStar Products )----[ NightStar 4 Induction Flashlight ]