----( Zzz... Products )----[ Zzz...Flame ]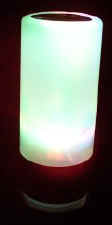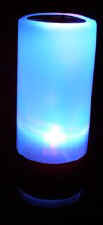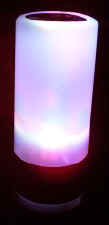 Images of the Zzz...Flame™ Color Changing Light
Another remarkable lighting instrument from the folks at Technology Associates Inc.
The Zzz...Flame was designed by the makers of the world-famous EternaLight series
LED flashlights, as a night-time companion. Very calming and relaxing to watch, its
candle-like behavior and spectral diversity will inspire sleep when you are tired, and
deep relaxation when you just want to chill out. Zzz...Flame also acts as a soft, near-
white lantern when you need to find your way in the dark. The unit is light weight and
extremely easy to use, just shake to turn it on or off. Uses inexpensive AA batteries
(not included). Once you see and try this item, you'll wonder how you lived without it.

The Zzz...Flame has a somewhat more transparent cylinder than the similar Zzz...Lite
model. It provides a brighter, more fire-like lighting effect that is fascinating to watch.
To see an amazing simulation of the Zzz...Lite in action, click here. Please note, this
brief simulation does not show all of the many colors and intensities of the real thing.

Special Offer! Our price is $5 below the suggested retail, and for a limited time, we
will include a set of 3 alkaline AA batteries with your Zzz...Flame, at no extra charge.
Semi-clear white body provides a bright fire-like lighting, fascinating to watch.
Shake once to start the spectral candle mode. The Zzz...Flame will transition
through thousands of colors. It gradually dims, then eventually shuts off auto-
matically after about fifteen minutes. Great sleep inducer for kids and adults.
Shake five times or more to start the lantern mode. The Zzz...Flame provides
a soft light for trips to the kitchen or bathroom. Just shake again to turn it off.
Technology Associates' LED and microprocessor technologies provide long
battery life (for months of nightly usage), and years of trouble-free operation.
Requires three AA alkaline batteries (not included). Use lithium batteries for
longer shelf life, more run time, better performance in extreme temperatures.
No tools required for battery changes, simply unscrew the base cap by hand.
Change batteries when the lamp starts with a dull red color and doesn't cycle.
Splash-resistant, break-resistant, easy-to-clean cylindrical white plastic bottle,
black plastic screw cap base, stands about 7-1/2" tall and 2-3/4" in diameter.
90-day manufacturer's limited warranty, $10 out-of-warranty service/shipping.

Zzz... Products
Item No
Unit Price
Zzz...Flame™ Color Changing Light
TA-ZF
$ 24.95
Zzz...Lite™ Color Changing Light
TA-ZL
$ 24.95
Zzz... Accessories
Item No
Unit Price
Energizer Alkaline Batteries (3)
BA-AAE-3
$ 2.50
Energizer Lithium Batteries (3)
BL-AAE-3
$ 8.95
Zzz... Services
Item No
Unit Price
Gift Wrapping Service - Zzz...
Please allow up to one week extra for delivery.
GW-ZZ
$ 2.95

Click an Add To Cart or Back Order button to place an item in the shopping cart, for purchase with
your credit card or debit card. Add To Cart items are usually in stock, and typically arrive within
one week. Back Order items aren't always in stock, but usually arrive within just two weeks.
Click a View Cart button to review the shopping cart contents and/or complete your order.
Click any underscored Item No to review the associated product detail page or image.
See the Order Info page for complete details on ordering, payment, and shipping.


----( Zzz... Products )----[ Zzz...Flame ]