----( Princeton Tec Products )----[ Princeton Tec Yukon ]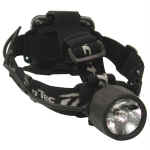 Image of the Princeton Tec Yukon Hybrid Headlamp
A dual-mode headlamp, with three white LEDs plus a bright Xenon incandescent bulb.
Comfortable adjustable headband. Burn time from 3 to 120 hours, depending on lamp
selection and battery type. Adjustable focus reflector and hinged lamp housing. Black.

Availability Note: This product has been discontinued
by the manufacturer, and is no longer available for sale.
However, we have the replacement xenon bulbs in stock.
Powerful Xenon bulb yields 32 lumens, or use LEDs for longer run time.
Three white LED bulbs mounted in triangle pattern for smooth lighting.
Battery pack is mounted at back of head strap for improved balance.
Uses 3 alkaline AA cells (included) for best results (lithium cells may
overdrive the Xenon bulb, and are not recommended for the Yukon).
Soft, comfortable, fully-adjustable, three-piece elastic head strap.
LED burn time up to 120 hours, Xenon burn time 3 to 5 hours.
Pivoting hinged lamp head aims the light where it's needed.
Weather- and water-proof, but not intended for diving use.
Adjustable-focus reflector with textured diffuser surface.
Weighs 7-1/2 to 8 ounces with the batteries installed.
Keeps hands free while working, walking or hiking.
Lifetime limited factory warranty by Princeton Tec.
Suggested List Price: $39.99 - Our Price: $35.95!

Princeton Tec Yukon Headlamps
Item No
Unit Price
Princeton Tec Yukon Hybrid Headlamp
PT-YH
$ 35.95
Princeton Tec Yukon Accessories
Item No
Unit Price
Energizer Alkaline AA Batteries (3)
BA-AAE-3
$ 2.50
Yukon Replacement Xenon Bulb (1)
A single-filament bi-pin bulb with a potted glass base.
This bulb fits Yukon only, does not fit Yukon Extreme.
PT-YB
$ 7.95
Red Lens Cap (Fits All Yukon Models)
PT-RL
$ 4.95

Click an Add To Cart or Back Order button to place an item in the shopping cart, for purchase with
your credit card or debit card. Add To Cart items are usually in stock, and typically arrive within
one week. Back Order items aren't always in stock, but usually arrive in two to three weeks.
Click a View Cart button to review the shopping cart contents and/or complete your order.
Click any underscored Item No to review the associated product detail page or image.
See the Order Info page for complete details on ordering, payment, and shipping.


----( Princeton Tec Products )----[ Princeton Tec Yukon ]