----( Xenopus Electronix )----[ Xenopus Electronix 365 UltraViolet Flashlight ]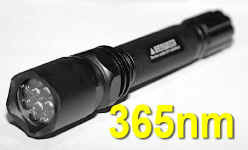 Image of the Xenopus Electronix 365 UltraViolet Flashlight








Examples of fluorescence using a 365 UltraViolet Flashlight
This is not your babysitter's blacklight torch, but a professional quality instrument
designed for use in the most demanding environments. It throws a tightly concen-
trated beam at 365nm peak wavelength with a narrow emission bandwidth curve.

The Xenopus Electronix 365 is both compact and light weight, but its rugged alu-
minum body and high-quality construction make it suitable for rigorous daily use.
It can be inexpensively powered for hours with two ordinary AA alkaline batteries,
or you can use longer-lasting lithium batteries or NiMH rechargeables if you wish.

Applications include many types of forensic inspection and fluorescence detection
that require intense UltraViolet light. Click on the pictures above to see expanded
views of just a few examples of the many useful visual detections that are possible.

Although it is suitable for a wide range of applications, please note that this model
is not powerful enough to meet certain industry specifications for specific methods
of non-destructive testing. Call us if you need a very high intensity NDT flashlight.

Warning! - This instrument produces intense ultraviolet radiation, which can cause
damage to eyes and skin. Avoid direct or strongly reflected exposure, and always
wear yellow (not clear) UVA-blocking filter glasses when using this ultraviolet lamp.
This instrument is not a toy, please keep it safely out of the reach of young children.
Eight premium-grade Nichia glass-lens UltraViolet LEDs yield
a bright concentrated beam for validation and inspection tasks.
The shorter 365nm peak wavelength is far superior to the more
common 395nm (used in most UV flashlights) for tasks such as
currency checking, mineral detection, and surface inspections.
Output power density exceeds 800µW/cm² at 15cm (6") range,
total output is about 16mW at 365mn, LED beam angle is 10°.
Useful battery life is up to six hours with standard alkaline cells.
Can use alkaline or lithium or NiMH batteries (never mix types).
Typical LED life is 10,000 hours, for years of reliable operation.
Glass front lens provides superior UV wavelength transmission.
Clicky tailcap pushbutton switch also allows momentary action.
Rugged aluminum alloy body with a black hard anodize finish.
O-ring seals at both ends for water resistance (not for diving).
Compact size is just 6" long, with 1-1/4" maximum diameter.
Includes a removable lanyard (optional holster is available).
Wear yellow polycarbonate safety glasses during use (see
our two most popular models, available separately below).
One-year limited factory warranty from Xenopus Electronix.

Xenopus Electronix 365 Flashlight
Item No
Unit Price
Xenopus Electronix 365 UltraViolet - 2AA
Includes Premium Alkaline Batteries, Wrist Lanyard,
Battery Carrier, And Flip-Top Corrugated Storage Box.
This model is no longer available from the factory, call
us to discuss alternate products for your requirements.
XE-365-2AA
$ 119.95
Xenopus Electronix 365 Accessories
Item No
Unit Price
Nite Ize Lite Holster - Stretch - Black
NI-LH-S
$ 7.95
Energizer Alkaline AA Batteries (2)
BA-AAE-2
$ 1.95
Energizer Lithium AA Batteries (2)
BL-AAE-2
$ 5.95
Sport Style UltraViolet Filter Glasses - Yellow
Blocks 99% Of UVA/UVB Radiation, Meets ANSI Z87.1
Sport Style Is Handsome, Compact, And Light Weight
Reduces Glare And Improves Fluorescent Contrast
Includes Black Microfiber Drawstring Carry Pouch
EX-SG-Y
$ 6.95
Wrap Around UltraViolet Filter Glasses - Yellow
Blocks 99% Of UVA/UVB Radiation, Meets ANSI Z87.1
Wrap Around Style Fits Over Most Prescription Lenses
Reduces Glare And Improves Fluorescent Contrast
Includes Black Microfiber Drawstring Carry Pouch
EX-WG-Y
$ 6.95

Click an Add To Cart or Back Order button to place an item in the shopping cart, for purchase with
your credit card or debit card. Add To Cart items are in stock or made to order, and usually arrive
within 1 to 2 weeks. Back Order items may be delayed, but usually arrive within 2 to 3 weeks.
Click a View Cart button to review the shopping cart contents and/or complete your order.
Click any underscored Item No to review the associated product detail page or image.
See the Order Info page for complete details on ordering, payment, and shipping.


----( Xenopus Electronix )----[ Xenopus Electronix 365 UltraViolet Flashlight ]