----( VersaLux Products )----[ VersaLux ULM ]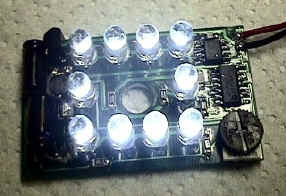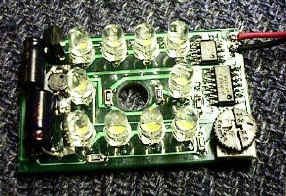 Images of the VersaLux ULM Utility Light Module
The Utility Light Module consists of a small modular circuit board with
ten bright white LEDs and regulated power supply electronics. Light
output is adjustable with the on-board potentiometer. A wide array of
low-voltage power sources and battery configurations can be utilized.
The ULM can be incorporated into many customized lighting projects.

Click the following link to view or download the specifications data sheet for this unit:
ULMDataSheet.PDF. Open it with Adobe Acrobat (or free Adobe Acrobat Reader
program, which can be downloaded at no charge from the Adobe Systems web site).
Ten bright white LEDs deliver non-yellowing light.
Small size, 1.18" tall by 1.95" wide by 1.2" thick.
20 degree flood pattern without reflector/diffuser.
LEDs provide very long life, up to 100,000 hours.
Usable with input voltages from 2.2 to 13.8 VDC.
Light output remains constant as batteries drain.
Current level is optimized for the applied voltage,
so the power level stays at a constant 0.84 Watts.
Light output is continuously adjustable over entire
power range with a small on-board potentiometer.
Typical battery run time examples are listed below.

ULM Power Source
Battery Configuration
Max Output (100%)
Battery Life Hours
Low Output (15%)
Battery Life Hours
1 - 9V Alkaline
4 +
40 +
4 - AAA Alkaline (series)
6 +
48 +
3 - AA Alkaline (series)
7 +
95 +
4 - AA Alkaline (series)
11 +
120 +
4 - D Alkaline (series)
110 +
770 +
Create small, lightweight, powerful, long-life battery-operated
headlamps and other specialty portable lighting instruments.
Construct customized low-maintenance lighting systems that
can operate from a wide range of low-voltage power sources.
Retrofit existing flashlights and portable lamp units to reduce
power consumption, eliminate bulb changes forever, improve
color rendition, reduce heat output, greatly extend battery life.

| VersaLux ULM Products | Item No | Unit Price |
| --- | --- | --- |
| VersaLux ULM Utility Light Module | VL-ULM | $ 49.95 |

Click an Add To Cart or Back Order button to place an item in the shopping cart, for purchase with
your credit card or debit card. Add To Cart items are usually in stock, and typically arrive within
one week. Back Order items aren't always in stock, but usually arrive in two to three weeks.
Click a View Cart button to review the shopping cart contents and/or complete your order.
See the Order Info page for complete details on ordering, payment, and shipping.


----( VersaLux Products )----[ VersaLux ULM ]