----( NightStar Products )----[ Shake Light 40-B Induction Flashlight ]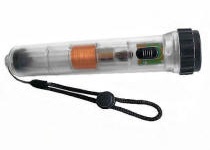 Image of the Shake Light 40-B LED Rechargeable Battery Induction Flashlight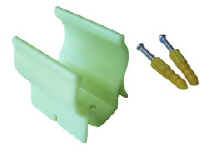 Image of the NightStar Light Finder Glow-In-The-Dark Wall Mounting Bracket
This latest shake-up flashlight combines many of the best features from all of the
hand-powered torches that have come before it. Brought to you by the folks who
invented the venerable and industry-leading NightStar line of shake-up flashlights,
we are pleased to introduce the new Shake Light 40-B. Its unique design yields
a brighter light output, and longer maximum run times, than previous battery-free
technologies, yet with an easier shaking action than is required for larger models.

A single cool white LED and special lens provide a smooth and well-focused spot
beam, with output nearly twice as bright as the LED used in the NightStar 4 model.
The lens has been upgraded for an improved beam image in the new 40-B model.
A special Nickel-Metal Hydride (NiMH) battery provides a higher storage capacity
to allow extended run times. A reliable, easy-to-use slide switch turns it on and off.
The flashlight includes a handy adjustable wrist lanyard (but this can be removed).
Yet all of this performance and versatility can be yours at an astoundingly low price.

Shake Light 40-B is perfect for overseas social service or disaster relief personnel,
because it will operate reliably for years, even in hostile weather and environments,
without any replacement batteries, in locales that have no infrastructure whatsoever.
It is an excellent torch for hiking and backpacking, camping or fishing. Every home
and office should have some of these, to prepare for long-term emergencies when
extra batteries or household power may become unavailable for extended periods.
Also an essential must-have for your car glove box, Shake Light 40-B tolerates the
hottest summer temperatures much better than most disposable battery flashlights.

Can't find your flashlight when you need it the most? The optional NightStar Light
Finder is the perfect accessory. This handy wall mounting bracket will keep your
Shake Light 40 or 40-B (and most of the larger NightStar models) ready for quick
access. The holder is made with long-interval glow-in-the-dark plastic, so you can
locate your flashlight easily on moonless nights or power failures. The Light Finder
package includes expandable wall anchors and screws for fast, simple installation.

Warnings: A powerful magnet and induction coil charge the storage capacitor when
you shake the flashlight. Because this flashlight creates strong magnetic fields, it is
not intended for use near computer equipment or magnetic audio/video/data media,
and should not be used in close proximity to persons wearing a cardiac pacemaker.
Please keep it safely away from your credit cards, video tapes and audio cassettes.
| | |
| --- | --- |
| | Small size fits easily in your tool box, glove box, or junk drawer. |
| | Zero long-term operating cost, no batteries or bulbs to replace. |
| | Lasts for years, one moving part, no breakable gears or levers. |
| | Bright cool white LED delivers up to 25 lumens (30,000 mcd). |
| | Maximum range 35 feet (10.5m), beam diameter 6 feet (1.8m). |
| | Shake for about one minute to get four minutes of useful light. |
| | Longer shaking can yield total run times of up to two hours. |
| | Custom front lens focuses the beam, and protects the LED. |
| | Rugged design withstands repeated drops (4 feet or 1.2m). |
| | ABS plastic body is resistant to salt water, alcohols & oils. |
| | Reliable tactile (clicky) pushbutton switch with rubber boot. |
| | Premium-quality long-life low-self-discharge NiMH battery. |
| | Powerful rare earth charge magnet and precision induction coil. |
| | End bumpers reduce impact for smooth & easy shaking action. |
| | Works in extreme temperatures (-4°F/-20°C to +176°F/+80°C). |
| | Splash-resistant for wet-weather usage, but is not submersible. |
| | Overall size is 7.0" (18cm) long and 1.65" (4.2cm) in diameter. |
| | Weight (flashlight & lanyard) is about 3.6 ounces (101 grams). |
| | An optional glow-in-the-dark wall mount is available separately. |
| | Matte-clear translucent finish body with black trim. |
| | Includes a removable adjustable-fit wrist lanyard. |
| | Typical LED operating life is fifty thousand hours. |
| | Typical battery life is ten thousand charge cycles. |
| | One-year limited warranty from EcoCentricNow. |
| | Suggested List Price: $17.95 - Our Price: $15.95! |
Shake Light 40-B Flashlight
Item No
Unit Price
Shake Light 40-B Flashlight
White LED - Matte Clear Body
ECN-SL40B
$ 15.95
Shake Light 40-B Flashlight - Twelve Pack
ECN-SL40B12
Save $ 12.00 !
$ 179.40
$ 14.95 Each
Shake Light 40 Flashlight Accessories
Item No
Unit Price
NightStar Light Finder
Glow Wall Mount - Putty / Green Glow
with mounting screws and plastic anchors
NS-A-LF
$ 4.95
NightStar Light Finder
Glow Wall Mount - Twelve Pack
with mounting screws and plastic anchors
NS-A-LF12
Save $ 6.00 !
$ 53.40
$ 4.45 Each

Click an Add To Cart or Back Order button to place an item in the shopping cart, for purchase with
your credit card or debit card. Add To Cart items are usually in stock, and typically arrive within
one week. Back Order items are not always in stock, but usually arrive within 2 to 3 weeks.
Click a View Cart button to review the shopping cart contents and/or complete your order.
Click any underscored Item No to review the associated product detail page or image.
See the Order Info page for complete details on ordering, payment, and shipping.


----( NightStar Products )----[ Shake Light 40-B Induction Flashlight ]