----( Specialties )----[ B+K Precision SenseLite ]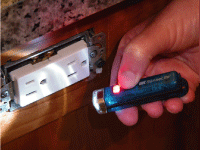 Image of the B+K Precision SenseLite Pocket Flashlight & Voltage Detector
An LED pocket flashlight with a built-in non-contact AC voltage detector.
Use the bright white LED to illuminate the fixture or device to be tested.
A blinking red light indicates that AC voltage (40 to 300VAC) is present.

An excellent tool for building and demolition contractors, engineers and
technicians. A single AAA battery provides long run time with low cost.
Light weight and small size. Carry in your pocket or attach to a lanyard.

Availability note: This item has been discontinued by
the manufacturer, and is no longer available for sale.
| | |
| --- | --- |
| | Bright white LED has 100,000+ hour operating life. |
| | Momentary switch actuates flashlight and detector. |
| | Detects 40 to 300VAC at distances up to 15 inches. |
| | Separate red LED blinks when voltage is detected. |
| | AAA alkaline battery (included) yields long run time. |
| | Under 3 inches long. Gasketed and water resistant. |
| | Translucent blue plastic case, integrated pocket clip. |
| | Operating temperature range 0° to 50°C. UL listed. |
| | One year limited warranty from B+K Precision. |
B+K Precision SenseLite Flashlights
Item No
Unit Price
B+K Precision SenseLite
LED Pocket Flashlight & AC Voltage Detector
BK-SL
$ 21.95
B+K Precision SenseLite Accessories
Item No
Unit Price
Energizer Alkaline AAA Batteries (2)
BA-3AE-2
$ 1.95

Click an Add To Cart or Back Order button to place an item in the shopping cart, for purchase with
your credit card or debit card. Add To Cart items are usually in stock, and typically arrive within
one week. Back Order items are not always in stock, but typically arrive within 2 to 3 weeks.
Click a View Cart button to review the shopping cart contents and/or complete your order.
Click any underscored Item No to review the associated product detail page or image.
See the Order Info page for complete details on ordering, payment, and shipping.


----( Specialties )----[ B+K Precision SenseLite ]