----( EternaLight Products )----[ EternaLight Rave'n ]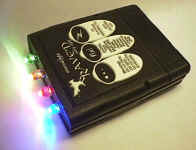 Image of the EternaLight Rave'n Model X1 Smart LED Party Light
The most technologically advanced personal lighting instruments available anywhere!
The Rave'n Model X1 is a multi-color specialty flashlight for games, dances or parties.
It has separate Red, Yellow, Green, and Blue LEDs, instead of four bright White ones.
This party light provides endless fun for kids and adults, but it's also a useful flashlight.
See the EternaLight Comparisons page to compare it with other EternaLight models.
Click the following link to view or download the user operations manual for this model:
RavenManual.PDF. Open this with Adobe Acrobat (or a free Adobe Acrobat Reader
program, which can be downloaded at no charge from the Adobe Systems web site).

Availability Note: This earlier product model is being discontinued by the manufacturer.
Be sure to check out their feature-packed replacement model, the EternaLight Rave'n2.
Microprocessor provides smart features, eleven operating modes:
Multi-Step Dimmer, DiceGame, DragRace, StopLight,
Cops, Adjustable Flasher, Adjustable Strobe, Blaster,
Adjustable Sequencer, Adjustable Chaser, and UFO.
Great game modes for kids, and special effect modes for parties.
With all four colors on, provides an effective near-white flashlight.
Up to five hundred hours of use from one set of alkaline batteries.
Four very bright colored LED lamps last for 50,000 to 100,000 hours.
Pager-style case is comfortable to hold, with an easy-to-use keypad.
Glow-in-the-dark keypad lets you adjust controls in total darkness.
Rectangular case rests in 4 positions, attaches easily to surfaces.
Measures 3" x 2-1/4" x 3/4". Weighs in at just four ounces.
Includes free alkaline batteries (set of three), already installed.
Lifetime limited factory warranty from Technology Associates Inc.

EternaLight Rave'n Party Lights
Item No
Unit Price
EternaLight Rave'n Party Light - 4 Color LEDs
EL-X1
$ 49.95
+ $ 3.00
EternaLight Rave'n Accessories
Item No
Unit Price
EternaLight Classic Black Leather Clip Case
EA-CCC
$ 14.95
Energizer Alkaline Replacement Batteries (3)
BA-AAE-3
$ 2.50
Energizer Lithium Replacement Batteries (3)
BL-AAE-3
$ 8.95

Click an Add To Cart or Back Order button to place an item in the shopping cart, for purchase with
your credit card or debit card. Add To Cart items are usually in stock, and typically arrive within
one week. Back Order items aren't always in stock, but usually arrive within just two weeks.
Click a View Cart button to review the shopping cart contents and/or complete your order.
Click any underscored Item No to review the associated product detail page or image.
See the Order Info page for complete details on ordering, payment, and shipping.
A special handling charge of $3.00 will be added to all orders for this product,
but the total handling charge is $3.00, regardless of the quantity ordered.


----( EternaLight Products )----[ EternaLight Rave'n ]