----( VersaLux Products )----[ VersaLux PR-2 ]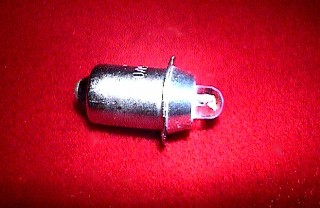 Image of the VersaLux PR-2 LED Flashlight Bulb
Replace the standard PR-2 incandescent bulb in many two-cell
flashlights with this bright white LED module. Get dramatically
extended battery life and improved shock resistance, eliminate
bulb changes forever, and get smooth non-yellowing white light.

Availability Note: This product has been discontinued
by the manufacturer, and is no longer available for sale.
Provides four times or more battery life than a standard PR-2 bulb.
Not as bright when batteries are new, but stays brighter far longer.
Never change bulbs again, this LED lasts up to 25,000 hours
(compared to only 10 to 40 hours from a filament style bulb).
LEDs are much more durable than conventional incandescent
bulbs, giving superior shock resistance, especially during use.
A smoother lighting pattern, with fewer rings and hot spots.
Brilliant white color, never yellows as batteries are drained.
Easily pays for itself in battery and bulb replacement savings.
Fits only in two-battery (three-volt) C-cell and D-cell flashlights.

VersaLux PR-2 Products
Item No
Unit Price
VersaLux PR-2 LED Replacement Bulb
VL-PR2
$ 12.95
+ $ 3.00
MagLite Two-Cell Flashlights
Item No
Unit Price
MagLite 2C Flashlight
Black Color Only In Blister Pack
ML-S2C016
$ 21.95
MagLite 2D Flashlight
Various Colors In Blister Pack
ML-S2D???
$ 24.95

Click an Add To Cart or Back Order button to place an item in the shopping cart, for purchase with
your credit card or debit card. Add To Cart items are usually in stock, and typically arrive within
one week. Back Order items aren't always in stock, but usually arrive within just two weeks.
Click a View Cart button to review the shopping cart contents and/or complete your order.
Click any underscored Item No to review the associated product detail page or image.
See the Order Info page for complete details on ordering, payment, and shipping.
A special handling charge of $3.00 will be added to all orders for this product,
but the total handling charge is $3.00, regardless of the quantity ordered.


----( VersaLux Products )----[ VersaLux PR-2 ]