----( Coleman Products )----[ Coleman Power Failure Light ]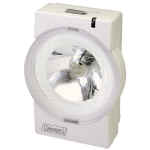 Image of the Coleman Power Failure Light
Handsome white flashlight, plugs into wall outlet. Bright incandescent bulb.
Lights automatically during power failures, or unplug it for flashlight use.
Replaceable NiCad rechargeable batteries, over two hours run time.

Availability Note: This product has been discontinued
by the manufacturer, and is no longer available for sale.
See replacement bulbs and batteries, available below.
| | |
| --- | --- |
| | Automatically lights up during power failures. |
| | Runs 2-1/2 hours as flashlight (unplugged). |
| | Runs 5-1/2 hours on standby (plugged in). |
| | Bright replaceable incandescent bulb. |
| | Typical output is about five lumens. |
| | Simple 2-position slide switch. |
| | Replaceable NiCad batteries. |
| | Recharges over 1000 times. |
| | Holds charge up to one year. |
| | Retractable wall power plug. |
| | Power indicator on case front. |
| | Attractive white plastic case. |
| | Case size: 4-1/2" x 3-1/4" x 2" |
| | One-year limited factory warranty by Coleman. |
Coleman Power Failure Lights
Item No
Unit Price
Coleman Rechargeable
Power Failure Light
CM-PFL
(5387-702)
$ 15.95
Coleman PFL Accessories
Item No
Unit Price
Coleman Power Failure Light
Replacement Incandescent Bulb (1)
This is a substitute bulb, Coleman has discon-
tinued the original factory bulbs for this model.
This replacement bulb exactly matches factory
specs & performance (2.33V, 0.27A, 5 lumens).
CA-PFB
(exact match
for Coleman
5387-115B)
$ 1.95
Nite Ize LED Upgrade Bulb
New 55-Lumen LED upgrade bulb for the PFL.
Dramatically brighter than the original factory bulb,
but may slightly shorten battery times per charge
(overcome this with higher power batteries below).
Ends bulb replacement, lasts thousands of hours.
Upgrade your measly 5 lumen light to 55 lumens!
NI-LRB-PR


$ 10.95
NiCd Rechargeable AA Batteries (2)
Higher energy capacity, will provide 30% longer
run times than factory original batteries did new.
Direct replacement, no adjustments are needed.
Please take the old batteries to a recycling center.
To locate recycling centers nearest you click here.
BR-AAN-P
$ 4.95

Click an Add To Cart or Back Order button to place an item in the shopping cart, for purchase with
your credit card or debit card. Add To Cart items are usually in stock, and typically arrive within
2 weeks. Back Order items are not always in stock, but typically arrive within 3 to 4 weeks.
Click a View Cart button to review the shopping cart contents and/or complete your order.
See the Order Info page for complete details on ordering, payment, and shipping.


----( Coleman Products )----[ Coleman Power Failure Light ]