----( Coleman Products )----[ Coleman Pack-Away Krypton Lantern ]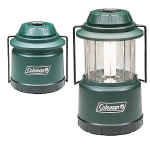 Image of the Coleman Pack-Away Krypton Lantern
Low-cost, high-quality personal lantern with patented pack-away collapsing feature.
Metal carrying handle. Bright krypton lamp bulb. Uses four D-cell alkaline batteries.

Click the following link to view or download the user operations manual for this model:
5315.PDF. Open the manual file with Adobe Acrobat (or with the free Adobe Reader
program, which can be downloaded at no charge from the Adobe Systems web site).
The manual for the smaller model that uses four AA batteries is here: 5315-Mini.PDF.

Availability Note: Coleman has discontinued this lantern, but we have the spare parts
(batteries and incandescent bulbs) in stock. Need help with bulb replacement? Click
one of the links above to see instructions in the user manual for your particular model.

Upgrade Note: Now you can upgrade your krypton lantern, with the latest technology
LED lamp bulb, and get brighter and whiter light, while dramatically improving the run
time per set of batteries to save you money! This bulb will actually pay for itself quickly
in battery savings if you use the lantern often. Also eliminates future bulb replacement.
| | |
| --- | --- |
| | Bright krypton bulb lights for up to fifteen hours on one set of alkaline batteries. |
| | Flameless electric lantern remains cool to the touch after many hours of use. |
| | Both krypton light bulb and batteries can be easily replaced without tools. |
| | Comfortable molded metal carrying handle provides easy portability. |
| | Collapses to half its extended operating size for easy portability. |
| | Rugged green housing is rust resistant and compact in size. |
| | Requires four size D alkaline batteries (not included). |
| | One-year limited factory warranty by Coleman. |
Coleman Pack-Away Lanterns
Item No
Unit Price
Coleman Pack-Away Krypton Lantern
CM-PKL
(5315-700)
$ 16.95
+ $ 2.00
Coleman Lantern Accessories
Item No
Unit Price
Energizer Alkaline D Batteries (4)
BA-DE-4
$ 7.25
Original Krypton Lantern Bulbs (2)
These replacement bulbs exactly match the
original factory specifications & performance.
Type KPR113, 4.8V, 0.75A, 3.6W, 52 lumens.
Your lantern will be just as bright as when new.
EK-KLB
(exact match
for Coleman
5351-100 or
5351-205)
$ 4.95
Long-Burn Krypton Lantern Bulbs (2)
These replacement bulbs are not as bright as
the original factory bulbs, but they will light for
about one-third longer per set of four "D" cells.
Type KPR13, 4.8V, 0.50A, 2.4W, 31 lumens.
This bulb is also an exact match replacement
for the smaller 4AA Pack-Away Lantern model.
EK-LLB
(substitute
for Coleman
5351-100 or
5351-205)
$ 4.95
Nite Ize LED Upgrade Bulb
New 55-Lumen LED Upgrade Lantern Bulb
Brighter and whiter appearance than the original
factory bulb, plus it extends run time per battery
set by a factor of three or more and dramatically
reduces battery costs. Ends bulb replacements
forever as it lasts for tens of thousands of hours.
Fits both 4D & 4AA Pack-Away Lantern models.
NI-LRB-PR


$ 10.95

Click an Add To Cart or Back Order button to place an item in the shopping cart, for purchase with
your credit card or debit card. Add To Cart items are usually in stock, and typically arrive within
one week. Back Order items are not always in stock, but typically arrive within 2 to 3 weeks.
Click a View Cart button to review the shopping cart contents and/or complete your order.
Click any underscored Item No to review the associated product detail page or image.
See the Order Info page for complete details on ordering, payment, and shipping.
Due to size and weight, lantern is subject to $2.00 additional handling charge.



----( Coleman Products )----[ Coleman Pack-Away Krypton Lantern ]