----( MagLite Products )----[ Mini MagLite 2AAA & Knife ]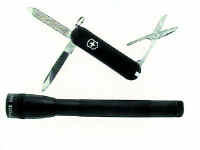 Image of the Mini MagLite 2AAA Flashlight and Victorinox Classic Knife
This 2AAA-cell incandescent flashlight is both shock- and water-resistant.
Bright, adjustable focus beam. Durable, anodized aluminum alloy body.
The little Mini MagLite is one of the most popular flashlights ever made.
Special combo set includes a matching Victorinox Classic pocket knife.

Got Bulbs? See our detailed ordering page for MagLite Replacement Bulbs.
The bulbs page also lists Performance Specifications for all MagLite models.

Not For Export: MagLite products cannot be shipped to locations outside of the
United States (except APO/FPO military addresses and territorial possessions).
Mag Instrument maintains international trademarks and protected distribution channels in most
other countries, and does not allow dealers located in the USA to compete with those markets.
Visit the International Sales page on the MagLite website for product sales outside of the USA.
This restriction applies only to MagLite brand products, but it does not limit our ability to export
accessories made for MagLite flashlights by other manufacturers (such as NiteIze or TerraLUX).
High-intensity incandescent light beam. Spare bulb is provided in tailcap.
Adjustable beam focus. Twist head 1/2 turn to change from spot to flood.
High-strength aluminum alloy case is anodized inside and out for long life.
Diamond knurled body improves grip. Knurled head ring for ease of use.
Patented candle mode allows for use as a free-standing miniature lantern.
Patented vented tailcap eliminates any gas buildup.
Rubber O-ring seals keep out dust, dirt, and water.
Overall size: 5 inches long by 3/4 inch in diameter.
Weighs 1.73 ounces (49.04 grams) with batteries.
Requires two AAA-cell alkaline batteries (included).
Lifetime limited factory warranty by Mag Instrument.
Typical battery life 6 hours, typical bulb life 20 hours.
Available in the presentation case with two batteries
and a Victorinox Classic multi-purpose pocket knife.
Available only in Black, and usually ships the next day.
Our price is $10 below factory resale, as shown below!

Mini MagLite 2AAA Flashlights
Item No
Unit Price
Mini MagLite 2AAA & Victorinox
Classic Knife - Gift Box - Black
ML-M3A49L
$ 25.95 35.95
Mini MagLite 2AAA Accessories
Item No
Unit Price
Mini MagLite 2AAA Black Nylon Holster
MA-M3A026
$ 4.50
Mini MagLite 2AA/2AAA Xenon Bulbs (2)
Latest Xenon Filled Type With Clear White Bead Color
Replaces All Earlier MiniMagLite 2AA And 2AAA Bulbs
That Had Clear Or Pink Or Green Or Black Bead Color
MA-M2A001
$ 8.95
Mini MagLite 2AAA Repair Kit
with six each of lens, reflector, lampholder, subtailcap, spring,
lipseal, contacts, o-rings, plus switch tool & instruction booklet
(fits only 2AAA Mini MagLites)
MA-M3A064
$ 21.95
Flashware Hands-Free System - Black
Light the area hands-free with this unique
multi-purpose wrist-mount holder system!
(fits Mini MagLites and many others)
FW-HFS
click above
for details
$ 23.95
Energizer Alkaline AAA Batteries (2)
BA-3AE-2
$ 1.95
Energizer Lithium AAA Batteries (2)
BL-3AE-2
$ 5.95

Click an Add To Cart or Back Order button to place an item in the shopping cart, for purchase with
your credit card or debit card. Add To Cart items are usually in stock, and typically arrive within
one week. Back Order items aren't always in stock, but usually arrive in two to three weeks.
Click a View Cart button to review the shopping cart contents and/or complete your order.
Click any underscored Item No to review the associated product detail page or image.
See the Order Info page for complete details on ordering, payment, and shipping.


----( MagLite Products )----[ Mini MagLite 2AAA & Knife ]