----( Specialties )----[ L-Cap Laser Pointer Tailcap ]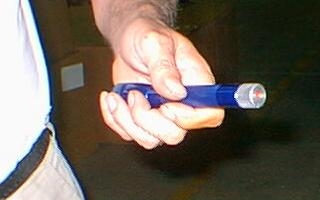 Image of the L-Cap Laser Pointer Tailcap installed on a blue Mini MagLite flashlight
Replace the standard tailcap of your 2AA Mini MagLite with this
bright red laser pointer module. Then just twist the tailcap to turn
off the flashlight beam and turn on the laser pointer. Uses the two
AA cells in the Mini MagLite, so no special batteries are required.

Turn your Mini MagLite into a versatile double-ended instrument.
Excellent for engineers, mechanics, pipe-fitters, and tour guides.

Does not interfere with the use of most Mini MagLite accessories,
but should not be used with the MagmaLED™ or other LED bulbs,
and cannot be used with the new LED models of the Mini MagLite.

Saves money by eliminating the need for hard-to-find miniature
batteries. Conserves carrying space and weight. Visit our Mini
MagLite page for a variety of holsters and other fine accessories,
or to buy a Mini MagLite for use with your new laser pointer tailcap.

To use your L-Cap Laser Pointer Tailcap, please follow these instructions:
[1] Turn off the flashlight in the usual manner.
[2] Remove the original Mini MagLite tailcap, and stored spare bulb if any.
[3] Install the L-Cap Laser Pointer Tailcap, turning it fully into the flashlight.
[4] Turn on the flashlight in the usual manner.
[5] With the flashlight on, hold the tailcap end pointing away from you and
partly unscrew it. The flashlight goes off when the laser pointer goes on.
[6] When done, turn off the laser pointer first by turning the tailcap back in,
then turn off the flashlight in the usual manner. Always follow this turn-
off sequence to prevent accidental turn-on of the laser during future use.
The L-Cap should only be used with the standard Mini MagLite bi-pin bulbs.

Warnings - Laser pointers emit an extremely bright beam that can
cause temporary or permanent visual impairment, if viewed directly.
Please observe the following precautions when using these devices:
[1] Never look directly into the beam(s) of any LED flashlight or laser pointer.
[2] Never shine the light into the eyes of people or animals, injury may result.
[3] Never shine the light at a mirror, nor at any other highly reflective surface.
[4] Never aim the beam near any aircraft, watercraft, or ground based vehicle.
[5] The laser pointer is not a toy, always keep it well out of reach of children.
| | |
| --- | --- |
| | Replaces the standard tailcap on 2AA Mini MagLite flashlights only. |
| | Red laser pointer LED provides 3 to 5 mW max at 660 or 670 nM. |
| | Twist tailcap to turn off flashlight beam and turn on laser pointer. |
| | Uses the flashlight cells, no specialty batteries are required. |
| | Beam is visible up to 1500 feet, depending on conditions. |
| | Does not interfere with the use of most holsters & clamps. |
| | Rugged machined brass body with bright chrome finish. |
| | Diamond knurled barrel for secure grip & easy control. |
| | Not for use with LED lamps, use standard bulbs only. |
| | 90-day warranty & satisfaction guarantee from L-Cap. |
| | Fits only Mini MagLite® flashlights that use two AA batteries. |
| | Mini MagLite® is not included. To buy one from us, click here. |
L-Cap Laser Pointer Accessories
Item No
Unit Price
L-Cap Laser Pointer Tailcap - Aluminum
LC-MM2AA
$ 14.95
L-Cap Laser Pointer Tailcap - Aluminum
Bonus Pack - Buy Five - Get One Free !
LC-MM2AA-6
$ 74.75
Mini MagLite Flashlights & Combo Sets
Item No
Unit Price
Mini MagLite 2AA Flashlight
Various Colors In Gift Box Or Holster Pack
ML-M2A???
$ 12.95
and up

Click an Add To Cart or Back Order button to place an item in the shopping cart, for purchase with
your credit card or debit card. Add To Cart items are usually in stock, and typically arrive within
one week. Back Order items are not always in stock, but typically arrive within 2 to 3 weeks.
Click a View Cart button to review the shopping cart contents and/or complete your order.
Click any underscored Item No to review the associated product detail page or image.
See the Order Info page for complete details on ordering, payment, and shipping.
MagLite and Mini MagLite are registered trademarks of Mag Instrument, Inc.


----( Specialties )----[ L-Cap Laser Pointer Tailcap ]