----( Coleman Products )----[ Coleman Retro 4D Lantern ]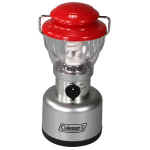 Image of the Coleman Retro 4D Personal Size Lantern
Coleman's brightest 4 D-cell lantern has a new spiral fluorescent tube.
Delivers up to 14 or 23 hours of light from one set of alkaline batteries.
Modern fluorescent technology combined with handsome retro styling.
| | |
| --- | --- |
| | Flameless electric lantern remains cool to touch after hours of use. |
| | 7-Watt fluorescent spiral tube efficiently delivers bright, white light. |
| | Rugged plastic housing is weather-resistant and shatter-resistant. |
| | Quick-release fluorescent tube can be easily replaced without tools. |
| | Operates from four D-cell batteries (not included). |
| | Adjustable light output to conserve battery power. |
| | Runs for up to 14 hours on high, 23 hours on low. |
| | Rust-resistant carrying handle provides portability. |
| | Very handsome new silver and red retro design. |
| | One-year limited factory warranty from Coleman. |
Coleman Retro Lanterns
Item No
Unit Price
Coleman Retro 4D Personal Lantern
CM-R4D
(5312-724)
$ 26.95
+ $ 3.00
Coleman Lantern Accessories
Item No
Unit Price
Energizer Alkaline D Batteries (4)
BA-DE-4
$ 7.25
Coleman 7-Watt Daylight
Fluorescent Spiral Tube
Genuine Coleman brand tube, blister card pack.
Color temperature 6500°K Daylight
Please take expired tubes to a recycling center.
To locate a recycling center near you, click here.
We regret that this product is no longer available
from the factory or from any known parts dealer,
and no generic substitute tubes are being made.
CA-R4T
(5312-101B or
5010000243)
$ 10.95

Click an Add To Cart or Back Order button to place an item in the shopping cart, for purchase with
your credit card or debit card. Add To Cart items are usually in stock, and typically arrive within
one week. Back Order items are not always in stock, but typically arrive within 2 to 3 weeks.
Click a View Cart button to review the shopping cart contents and/or complete your order.
Click any underscored Item No to review the associated product detail page or image.
See the Order Info page for complete details on ordering, payment, and shipping.
Due to size and weight, lantern is subject to a $3.00 additional handling charge.


----( Coleman Products )----[ Coleman Retro 4D Lantern ]