----( INOVA Products )----[ INOVA XS ]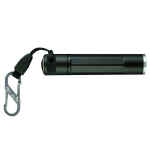 2014 Model - 80 Lumens
Images of the INOVA XS LED Tactical Flashlights (Titanium & Black)
A tough but tiny tactical flashlight, the new XS is INOVA's smallest metal-body model.
Small and light weight, but very powerful. Bright white LED and precision engineered
reflector. Aluminum body is crush-resistant and water-resistant. The versatile tailcap
switch provides continuous or momentary use, and now offers two brightness levels so
you can get just the right amount of light for distance vision or up-close tasks. Delivers
more than an hour of light at its maximum brightness from an inexpensive AAA battery.
White LED delivers 80 or 13 lumens, beam range of up to 194 feet (59 meters).
Precision engineered reflector provides optimum brightness and smooth beam.
Stainless steel ring protects the lens. Battery piston prevents polarity reversal.
Case body is precision machined from solid aircraft aluminum, protected with a
durable hard anodize finish available in two colors, and is highly crush resistant.
Overall size is 2.90" long by 0.59" diameter. Loaded weight is just 1.09 ounces.
O-ring sealed case is highly water-resistant (but not intended for dive light use).
Longitudinal case flats improve grip. Knurled tail cap has a large lanyard hole.
Multiple-mode tail switch has rotary settings for off, momentary (using the rubber
push button switch at the back for as long as needed), or continuous on settings.
Powered by a single AAA battery (alkaline is included), replaceable without tools.
AAA cells are tiny & light, so you can carry plenty of spares with minimal burden.
Regulator circuitry provides for maximum brightness over the life of the battery.
Typical bulb life more than 38,000 hours. Battery life (alkaline) is about an hour
at full brightness, and over one day at the lower setting. An excellent EDC light.
Use lithium AAA batteries for longer runtimes, lighter weight, and sub-zero cold.
Includes a special lanyard and a Nite Ize S-Biner clip for convenient attachment.
Our price is $4 below the $23.95 suggested resale! Call us for volume pricing.
Lifetime limited factory warranty from INOVA / Nite Ize.

All of the listed specifications are approximate, and subject to
variations between flashlights, batteries, and individual LEDs.
The latest INOVA XSB flashlights have been tested and rated
in accordance with ANSI/NEMA-FL1 measurement standards.
INOVA XSB Typical Performance
Operating
Mode
Power
Level
Output
Lumens
Runtime
Hours
Beam Range
Meters
Feet
Constant or
Momentary
High
80
1
59
194
Low
13
29
(not rated)
(not rated)
INOVA XS Tactical Flashlights
Item No
Unit Price
INOVA XS - Spotlight White LED - Black Body
IN-XS-WB
$ 19.95
INOVA XS - Spotlight White LED - Titanium Body
The factory has discontinued production of the Titanium
body color for all series X flashlights. No longer available.
IN-XS-WT
$ 19.95
INOVA XS - Spotlight White LED - Mossy Oak Body
The factory has discontinued production of Mossy Oak
body finish for all series X flashlights. No longer available.
IN-XS-WC
$ 22.95
INOVA XS Flashlight Accessories
Item No
Unit Price
Energizer Alkaline AAA Batteries (2)
Click Here For Additional Alkaline Battery Options
BA-3AE-2
$ 1.95
Energizer Lithium AAA Batteries (2)
Click Here For Additional Lithium Battery Options
BL-3AE-2
$ 5.95

Click an Add To Cart or Back Order button to place an item in the shopping cart, for purchase with
your credit card or debit card. Add To Cart items are usually in stock, and typically arrive within
one week. Back Order items are not always in stock, but usually arrive within three weeks.
Click a View Cart button to review the shopping cart contents and/or complete your order.
Click any underscored Item No to review the associated product detail page or image.
See the Order Info page for complete details on ordering, payment, and shipping.