----( INOVA Products )----[ INOVA Signaling Wand ]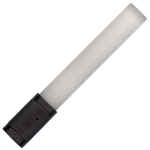 Image of the INOVA Signaling Wand
A convenient signaling wand attachment for your INOVA X5 tactical flashlight.

Availability Note: This item has been discontinued by the manufacturer.
Translucent wand for traffic control and emergency signaling.
Easily attaches to the front of your INOVA X5 tactical flashlight.
Not the usual flimsy hollow tube, but a hefty solid cast cylinder
of plastic with a precision diffuser finish, and very nicely made.
Packed in a reusable black plastic two-piece protector sleeve.

| INOVA X5 Accessory Items | Item No | Unit Price |
| --- | --- | --- |
| Translucent Traffic Control & Signaling Wand | IA-X5W | $ 17.95 |
| INOVA X5 Black Nylon Wrist-Strap Lanyard | IA-X5L | $ 1.95 |
| INOVA X5 Ballistic Nylon Belt-Loop Sheath | IA-X5S | $ 3.95 |

Click an Add To Cart or Back Order button to place an item in the shopping cart, for purchase with
your credit card or debit card. Add To Cart items are usually in stock, and typically arrive within
one week. Back Order items are not always in stock, but typically arrive within 2 to 3 weeks.
Click a View Cart button to review the shopping cart contents and/or complete your order.
Click any underscored Item No to review the associated product detail page or image.
See the Order Info page for complete details on ordering, payment, and shipping.