----( INOVA Products )----[ INOVA T1 ]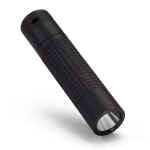 Latest 2014 Model - 241 Lumens !
Image of the INOVA T1C-01-R7 LED Tactical Flashlight

Dimensions and specifications for the latest INOVA T1C-01-R7 Flashlight
INOVA series T tactical lights are perfect for the rigorous demands of law enforcement,
and provide the outstanding features, quality, and performance you expect from INOVA.

Now even brighter than before, the improved 2014 INOVA T1C-01-R7 tactical flashlight
delivers a brilliant 241-lumen maximum output.. This updated model also provides three
operating modes: high, low, and tactical strobe. Its high-precision engineered reflector
delivers optimum brightness and unparalleled beam image quality. The crush-resistant,
water-resistant, knurled aluminum body has a durable Type III black hard anodize finish.

The T1 is the smallest model in the INOVA series T tactical flashlight lineup. But don't
let the compact size fool you. It has plenty of power, and a wealth of features, plus the
rugged durability and handsome style that are hallmarks of the line. The T1 delivers a
strong and flawless beam, three effective modes, and extended battery life, but with a
budget-conscious price that won't unbalance the bank book. Everyone talks about an
every-day-carry flashlight, but the T1 is truly one of the hottest contenders for the prize.

Availability Update: The factory has discontinued production of all T1 series flashlights.
A powerful white LED is enhanced with a high-precision engineered reflector,
to deliver a smooth, well-balanced beam. Provides 241 lumen typical output,
with an effective range of up to 446 feet and signal visibility of up to two miles.
Patented optical systems provides thermal management and beam focusing.
Intelligent power regulation for consistent brightness over life of the batteries.
Delivers continuous non-dimming output for up to 4 hours per set of batteries.
Highly effective for its size. Overall dimensions 4.56" long by 1.00" diameter.
Advanced aggressive body knurling provides a positive grip for sure handling.
Case body is precision machined from solid aircraft aluminum, protected with
a durable black hard anodize finish, both impact-resistant and crush-resistant.
Multi-function tactical tailcap switch, push for momentary or click for constant
on use in high or low or strobe modes. This is the new multi-mode T1 flashlight.
Two rapid pushes (from off) will switch the flashlight to its tactical strobe mode.
Twist the tailcap for push-button switch lockout, to prevent accidental actuation.
A special double-sided AR-coated mineral glass lens protects internal optics.
Neoprene tailcap o-ring seal and Teflon® lenscap seal keep out dirt and water.
Knurled tailcap has a large lanyard hole, reliable anodized threads for long life.
Latest model now includes a high quality woven wrist lanyard at no extra cost.
Powered by two lithium photo batteries (included), easily replaced without tools.
Bright, comfortable, and rugged. Perfect for police work. Weighs just 3.95 oz.
New packaging features ANSI/NEMA FL1 standardized performance ratings.
Our price is $13 below the $67.95 suggested resale! Call for volume pricing.
Lifetime limited factory warranty from INOVA / Nite Ize.

All of the listed specifications are approximate, and subject to
variations between flashlights, batteries, and individual LEDs.
New INOVA T1C-01-R7 flashlights have been tested and rated
in accordance with ANSI/NEMA-FL1 measurement standards.
INOVA T1C-01-R7 Typical Performance
Operating
Mode
Power
Level
Output
Lumens
Runtime
Hours
Beam Range
Meters
Feet
Constant
High
241
4
136
446
Low
23
47
(not rated)
(not rated)
Strobe
High
(not rated)
(not rated)
(not rated)
(not rated)
INOVA T1C-01-R7 Tactical Flashlights
Item No
Unit Price
INOVA T1C-01-R7 - Spotlight White LED - Black Body
Latest 2014 Model - 241 Lumens, 3 Operating Modes
IN-T1C
$ 54.95
INOVA T1 Flashlight Accessories
Item No
Unit Price
Energizer 123 Lithium 3V Batteries (2)
Click Here For Additional Battery Options
BL-3VE-2
$ 4.95
Flashware Hands-Free System - Black
Includes Wrist Band, Small Flashlight
Holder, And Tactical Flashlight Holder
FW-HFS
$ 23.95

Click an Add To Cart or Back Order button to place an item in the shopping cart, for purchase with
your credit card or debit card. Add To Cart items are usually in stock, and typically arrive within
one week. Back Order items are not always in stock, but usually arrive within three weeks.
Click a View Cart button to review the shopping cart contents and/or complete your order.
Click any underscored Item No to review the associated product detail page or image.
See the Order Info page for complete details on ordering, payment, and shipping.


----( INOVA Products )----[ INOVA T1 ]