----( INFORCE Products )----[ INFORCE Color LE/MP ]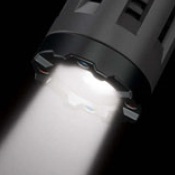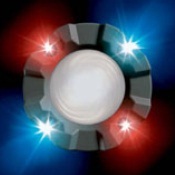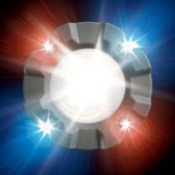 Images of the INFORCE Color LE/MP Military Flashlight
Emissive Energy created its Special Projects Division to develop the next genera-
tion of portable lighting gear for military applications. The result is INFORCE, a line
of ultra-rugged high-performance flashlights and accessories quite unlike any other.
INFORCE torches are designed and tested to be combat capable in any and every
environment, hot or sub-zero cold, wet or dry, whether on land or at sea or in the air.

INFORCE Color are the mission-specific multi-color models of the series. Each has
a powerful 200-lumen primary LED, with three constant-on or momentary brightness
levels. Mounted into the head bezel are four small color LEDs, providing specialized
lighting for specific tasks. Select the primary beam and set its brightness, or choose
one of the two multi-color strobe modes, with one tailcap switch, using just one hand.

The LE/MP model has two red and two blue LEDs mounted in the front bezel. They
provide an attention-getting red and blue flasher for beacon and marker light needs.
And the LE/MP also provides what is certainly the most disorienting combat strobe
mode ever devised for a flashlight. For this, the red and blue LEDs are combined
with the bright white primary beam, with a random pattern and changing frequency.

Once again, Emissive Energy has stunned the industry by combining ground-break-
ing technology with blindingly-bright performance and battle-tank durability, into one
handsome flashlight. Experience the superior quality and unmatched capabilities of
INFORCE Color LE/MP. This unique new flashlight is the perfect solution for law en-
forcement professionals who need both a bright light and an effective combat strobe.

Click this link to view or download a Fact Sheet & User Manual for the latest model:
INFORCE LE/MP. Open the file with Adobe Acrobat, or the free Adobe Reader utility
program (which can be downloaded at no charge from the Adobe Systems website).

Availability Note: This product model has been discon-
tinued by INFORCE, and is no longer available for sale.
The reliable INFORCE tailcap switching system combines rotary and pushbutton
actuators, allowing convenient and intuitive operation of all modes with one hand.

| | |
| --- | --- |
| | High-performance LED and sophisticated circuitry. Up to 200-lumen output. |
| | Custom-tuned optics deliver a powerful hot spot and a balanced spillbeam. |
| | Proprietary power regulation for uniform brightness and maximum runtimes. |
| | Simple, reliable tailcap switch for one-hand selection of modes and levels. |
| | Three constant & momentary brightness levels for the primary white beam. |
| | The two-color beacon strobe mode provides a flashing red and blue output. |
| | The three-color disorienting strobe yields effective defense for combat use. |
| | Efficient power from two industry-standard CR123A lithium batteries (included). |
| | New carbon fiber composite body is exceptionally light, strong, and rugged. |
| | Weighs just 4.5 ounces loaded with batteries, minimizes troop carry burden. |
| | Compact size, dimensions are 6.175" long with 1.25" max bezel diameter. |
| | Patented heat vents extend LED life and keep the body comfortable to hold. |
| | Premium o-rings seal out dust and dirt and moisture. Waterproof to 66 feet. |
| | Scalloped front bezel lets light spill out so you know if it is on when standing. |
| | Handy stainless steel clip attaches securely to pocket or belt or MOLLE vest. |
| | The pocket clip is removable (an optional 5/64" hex key is available below). |
| | Built-in lanyard hole accepts standard 550 nylon kernmantle parachute cord. |
| | Maintenance free. Rinse with water to clean. Replace batteries as needed. |
| | Tested in accordance with MIL-STD-810F, fits in MIL-STD-1913 rail mounts. |
| | Rugged, waterproof storage case securely holds the flashlight and batteries. |
| | Available in Black body color only (Sand color is not available in this model). |
| | Ten-year limited factory warranty from INFORCE / Emissive Energy Corp. |
All of the listed specifications are approximate, and subject to
variations between flashlights, batteries, and individual LEDs.
This table was compiled by Flashlights Unlimited. Linking allowed, duplication prohibited.
INFORCE Color LE/MP Performance
Operating
Mode
Beam Color
Selection
Power
Level
Output
Lumens
Runtime
Hours
Constant
Or
Momentary
Primary
White
High
200
2-3/4
Med
60
6
Low
8
40
Strobe
Red
Blue
-
-
12
Red
Blue
White
-
-
5-3/4
INFORCE Color LE/MP Flashlight
with Red and Blue secondary LEDs
Item No
Unit Price
INFORCE Color LE/MP - Black Body
INFORCE Color LE/MP Is Discontinued - Sold Out
INF-B-PBR
$ 140.00
INFORCE Flashlight Accessories
Item No
Unit Price
Energizer 123 Lithium 3V Batteries (2)
Click Here For Additional Battery Options
BL-3VE-2
$ 4.95
Wiha Tools Steel Hex Key - 5/64" - Chrome
Premium Quality Hex Key For Removal And Installation
Of The INFORCE Pocket Clip - Tool Made In Germany
Price Includes Postal Delivery To Any USA Destination
WT-HK-078
$ 2.95
INFORCE Weapon Mount - Black
INFORCE Weapon Mount Is Discontinued - Sold Out
INF-B-WM
$ 58.50

Click an Add To Cart or Back Order button to place an item in the shopping cart, for purchase with
your credit card or debit card. Add To Cart items are usually in stock, and typically arrive within
one week. Back Order items are not always in stock, but will usually arrive within three weeks.
Click a View Cart button to review the shopping cart contents and/or complete your order.
Click any underscored Item No to review the associated product detail page or image.
See the Order Info page for complete details on ordering, payment, and shipping.


----( INFORCE Products )----[ INFORCE Color LE/MP ]