----( Specialties )----[ Head-Lite Halogen Hat Light ]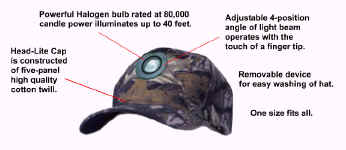 Features of the new Head-Lite Halogen Hat Light
Available colors for Head-Lite Halogen Hat Light
A handsome cap with a built-in light module, in solid colors or camouflage prints.
Quality five-panel cap made of cotton twill, with four eyelets and a Velcro closure.
A powerful halogen lamp adjusts to three positions, and uses two AAA batteries.

A wonderful idea, the Head-Lite is perfect for pet walking, emergency auto repairs,
hiking and biking, hunting and camping, fishing and boating, and more. It makes a
fantastic gift, and an excellent accessory for cars, boats, and recreational vehicles.

Now you can wear a light on your head, without a dorky-looking strap-on headlamp,
or a big, ugly, heavy, sweaty, plastic helmet. The light always shines in the direction
you look, and you can wear a Head-Lite to the laundromat without being gawked at.

The camouflage hats use genuine premium-brand patterns from well-known makers
like Advantage®, Mossy Oak®, and Realtree®. See the listings below for the current
selection of available camouflage patterns and the fade-resistant solid color fabrics.

Availability Note: We now maintain local inventory of the Head-Lite hats, so we can
provide fast order turnaround and speedy Priority Mail delivery to virtually anywhere.
And our new sale prices are $5 lower than before, so you get a really amazing deal!
However, these are now closeout items, available only while our local stock remains.

Accessories Note: All of the solid color hats have a lamp module with a matching
color bezel. All of the camouflage color hats have black lamp module bezels. The
inner and outer bezel rings and the clear plastic lens are interchangeable between
lamp modules. For example, you can replace a burned out lamp module with one
of some other bezel color, and if the original bezel rings are intact you can change
them to maintain your original bezel color. You can also buy an extra lamp module
and change the bezels, for example to give your navy color hat a blaze color bezel.
You can replace the original clear lens with a red or blue filter lens if desired. And
you can temporarily remove the lamp module, whenever you want to wash your hat.

Free Gift! We now include a fresh pair of Panasonic alkaline AAA batteries with
each new Head-Lite at no charge to you (we replace the the lower-cost imported
carbon-zinc cells provided by the factory). Alkalines deliver much longer runtimes.

Special Offer! When you buy three or more Head-Lite hats (any mix of colors), we
will send a free replacement lamp module! Buy six or more, and we will send two!
There is no need to specify these with your order, we will send them automatically.
Four-position light module: push bottom of lamp to switch on and set one of
three positions to aim the light where needed, push top of lamp to switch off.
Top-quality five-panel cap has four eyelets and matching Velcro closure tab.
Made of durable cotton twill. Lamp module removes so hat can be washed.
Patented replaceable halogen lamp module projects a beam up to forty feet.
Replacement lamp modules are available with either clear or colored lenses.
Available in several popular solid colors, or three special camouflage prints.
The camouflage prints are genuine Mossy Oak ® and Advantage ® patterns.
Requires just two AAA batteries (included with hat). Economical to operate.
Use alkaline batteries for longer run time. Try the new lithium AAA batteries
for even more run time, longer shelf life, and better operation in extreme cold.
Ninety-day replacement guarantee from Flashlights Unlimited.

Head-Lite Hat Lights - Solid Colors
Item No
Unit Price
Head-Lite - Solid Black
HL-SBK
$ 12.95
Head-Lite - Solid Navy
HL-SNV
$ 12.95
Head-Lite - Solid Khaki
HL-SKK
$ 12.95
Head-Lite - Solid Blaze
Closeout - Only 2 Pieces Remaining In Stock
HL-SBZ
$ 12.95
Head-Lite Hat Lights - Camouflage
Item No
Unit Price
Head-Lite - Brown Camo
Current Pattern: Mossy Oak ® New Break-Up ™
HL-CBN
$ 14.95
Head-Lite - Grass Camo
Current Pattern: Mossy Oak ® Shadow Grass ™
HL-CGS
$ 14.95
Head-Lite - Green Camo
Current Pattern: Advantage ® Timber ™
HL-CGN
$ 14.95
Head-Lite Hat Light Accessories
Item No
Unit Price
Energizer Alkaline AAA Batteries (2)
BA-3AE-2
$ 1.95
Energizer Lithium AAA Batteries (2)
BL-3AE-2
$ 5.95
Head-Lite Replacement Lamp Module
Clear Lens - Black Bezel
HA-LMC
$ 4.95
Head-Lite Replacement Lamp Module
Clear Lens - Navy Bezel
HA-LMN
$ 4.95
Head-Lite Replacement Lamp Module
Clear Lens - Forest Bezel
HA-LMF
$ 4.95
Head-Lite Replacement Lamp Module
Clear Lens - Khaki Bezel
HA-LMK
$ 4.95
Head-Lite Replacement Lamp Module
Clear Lens - Blaze Bezel
HA-LMB
$ 4.95
Head-Lite Color Filter Lens - Blue
HA-LLB
$ 0.95
Head-Lite Color Filter Lens - Red
HA-LLR
$ 0.95

Click an Add To Cart or Back Order button to place an item in the shopping cart, for purchase with
your credit card or debit card. Add To Cart items are usually in stock, and typically arrive within
one week. Back Order items are not always in stock, but typically arrive within 2 to 3 weeks.
Click a View Cart button to review the shopping cart contents and/or complete your order.
Click any underscored Item No to review the associated product detail page or image.
See the Order Info page for complete details on ordering, payment, and shipping.


----( Specialties )----[ Head-Lite Halogen Hat Light ]