----( Coleman Products )----[ Coleman Floating Krypton Lantern ]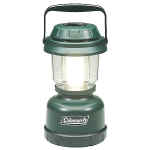 Image of the Coleman Floating Krypton Lantern
Low-cost, high-quality personal lantern with plenty of features. Comfortable molded
plastic carrying handle. Bright krypton lamp bulb. Uses four D-cell alkaline batteries.

Click the following link to view or download the user operations manual for this model:
5310.PDF. Open the manual file with Adobe Acrobat (or with the free Adobe Reader
program, which can be downloaded at no charge from the Adobe Systems web site).
| | |
| --- | --- |
| | Bright krypton bulb lights for up to fifteen hours on one set of alkaline batteries. |
| | Flameless electric lantern remains cool to the touch after many hours of use. |
| | Both krypton light bulb and batteries can be easily replaced without tools. |
| | Comfortable molded plastic carrying handle provides easy portability. |
| | Lantern floats in water. Eliminates unwanted diving expeditions. |
| | Rugged green housing is rust resistant and compact in size. |
| | Requires four size D alkaline batteries (not included). |
| | One-year limited factory warranty by Coleman. |
Coleman Floating Lanterns
Item No
Unit Price
Coleman Floating Krypton Lantern
CM-FKL
(5310-701)
$ 16.95
+ $ 2.00
Coleman Lantern Accessories
Item No
Unit Price
Energizer Alkaline D Batteries (4)
BA-DE-4
$ 7.25
Original Krypton Lantern Bulbs (2)
These replacement bulbs exactly match the
original factory specifications & performance
(type KPR113, 4.8V, 0.75A, 3.6W, 52 lumens).
EK-KLB
(exact match
for Coleman
5351-100 or
5351-205)
$ 5.95
2-Pack
Long-Burn Krypton Lantern Bulbs (2)
These replacement bulbs are not as bright as
the original factory bulbs, but they will light for
about one-third longer per set of four "D" cells
(type KPR13, 4.8V, 0.50A, 2.4W, 31 lumens).
EK-LLB
(substitute
for Coleman
5351-100 or
5351-205)
$ 5.95
2-Pack

Click an Add To Cart or Back Order button to place an item in the shopping cart, for purchase with
your credit card or debit card. Add To Cart items are usually in stock, and typically arrive within
one week. Back Order items are not always in stock, but typically arrive within 2 to 3 weeks.
Click a View Cart button to review the shopping cart contents and/or complete your order.
Click any underscored Item No to review the associated product detail page or image.
See the Order Info page for complete details on ordering, payment, and shipping.
Due to size and weight, lantern is subject to $2.00 additional handling charge.


----( Coleman Products )----[ Coleman Floating Krypton Lantern ]