----( Coleman Products )----[ Coleman Floating Krypton Headlamp ]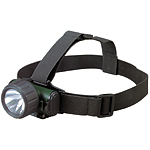 Image of the Coleman Floating Krypton Headlamp
Low-cost, high-quality headlamp with plenty of features. Comfortable fabric headband
is adjustable at top and side. Bright krypton bulb. Includes batteries and a spare bulb.

Availability Note: This product has been discontinued
by the manufacturer, and is no longer available for sale.
Comfortable fabric headband has adjustable top and side straps for perfect fit.
Bright krypton bi-pin bulb is easy to replace, and a spare bulb is included.
Head pivots up and down 90 degrees, and rotates on a second axis.
Light-weight, water-proof and durable, designed for extended use.
Dark green & charcoal black housing, with push-button switch.
Includes two AA batteries, use alkaline for longer run times,
or use lithium for even longer run time and lighter weight.
Keeps your hands free for working, walking or hiking.
Floats in water with carbon/zinc or lithium batteries
(does not float with alkaline batteries installed).
One-year limited factory warranty by Coleman.

Coleman Floating Headlamps
Item No
Unit Price
Coleman Floating Krypton Headlamp
CM-FKH
(5386-926)
$ 11.95
Coleman Headlamp Accessories
Item No
Unit Price
Energizer Alkaline AA Batteries (2)
BA-AAE-2
$ 1.95
Energizer Lithium AA Batteries (2)
BL-AAE-2
$ 5.95
Coleman Krypton Headlamp Bulbs (2)
CA-KHB
(5398-123)
$ 4.95

Click an Add To Cart or Back Order button to place an item in the shopping cart, for purchase with
your credit card or debit card. Add To Cart items are usually in stock, and typically arrive within
one week. Back Order items are not always in stock, but typically arrive within 2 to 3 weeks.
Click a View Cart button to review the shopping cart contents and/or complete your order.
Click any underscored Item No to review the associated product detail page or image.
See the Order Info page for complete details on ordering, payment, and shipping.


----( Coleman Products )----[ Coleman Floating Krypton Headlamp ]