----( EternaLight Products )----[ EternaLight EliteMax ]
Images of the EternaLight EliteMax Model 4Z Smart LED Flashlight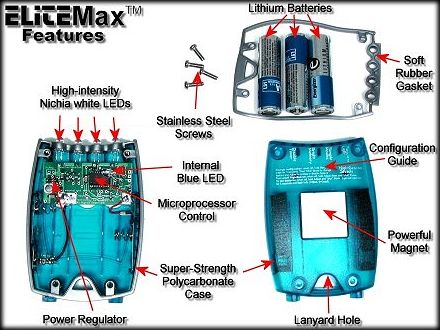 Features of the EternaLight EliteMax Model 4Z Smart LED Flashlight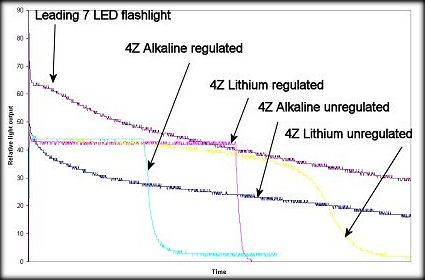 Performance of the EternaLight EliteMax Model 4Z Smart LED Flashlight
The most technologically advanced personal lighting instruments available anywhere!
The EliteMax Model 4Z has a translucent blue case with internal NightBeacon™ LED,
long-life lithium batteries, and numerous durability and flexibility enhancements. It also
floats in salt or fresh water. This is a top-of-the-line EternaLight, the ultimate flashlight.

The latest model in the Elite series, the new EliteMax provides optional electronic out-
put regulation for consistent brightness over the life of the batteries (see chart above).
It also has an ultra-bright momentary overdrive mode, and extra configuration features.
See the EternaLight Comparisons page to compare it with other EternaLight models.

Click the following link to view or download the user operations manual for this model:
EliteMaxManual.PDF. Open it with Adobe Acrobat (or a free Adobe Acrobat Reader
program, which can be downloaded at no charge from the Adobe Systems web site).

Technology Associates has also produced an excellent video presentation about the
EternaLight EliteMax, that can be opened or downloaded here: EliteMaxDemo.WMV.
Microsoft Windows Media Player is required for playback of the 4½ minute video file.
Microprocessor provides smart features, with seven operating modes:
Automatic-Shut-Off Timer, 12-Step Dimmer, Adjustable Flasher,
Adjustable Strobe, Dazzle, SOS, and Momentary (Code Flasher).
Exclusive NightBeacon™ feature lights up the flashlight body so you can
find it easily in the dark. Backlight can be continuous, blip mode, or off.
Electronic output regulation provides consistent high brightness over the
life of the batteries, but can also be disabled for conventional operation.
Special momentary overdrive mode provides ultra-bright pulsed light for
signaling or spot location (this is not intended for continuous operation).
New visual configuration mode lets you adjust special features including
regulation, timer and NightBeacon™, and provides battery voltage test.
Polycarbonate case, threaded brass inserts, and stainless steel screws
make this the most durable and dependable EternaLight series ever.
Visible over three miles, beam illuminates objects for over eighty feet.
Up to one thousand hours of use from one set of lithium batteries.
Bright white LED lamps never yellow, last for 50,000 to 100,000 hours.
Ergonomic shape is comfortable to hold, with an easy-to-use keypad.
Powerful case magnet allows secure attachment to ferrous surfaces
(magnet is shipped detached, for those who do not wish to install it).
Measures 2-5/8" x 3-5/8" x 1". Weighs approximately 3.8 ounces.
The durable enclosure is water resistant and impact resistant,
typically withstands submersion to 100 feet or drop to 10 feet.
Gasketed recessed lamp mounting protects bulb alignment.
Has large lanyard hole and includes break-away fabric lanyard.
Large base feet allow it to stand upright for handy area lighting.
Includes lithium photo batteries (set of three), already installed.
Will float in salt or fresh water with the installed lithium batteries.
Lifetime limited factory warranty from Technology Associates Inc.
Suggested List Price: $99.95 - Our Special Sale Price: $84.95!

EternaLight EliteMax Flashlights
Item No
Unit Price
EternaLight EliteMax - 4 White LEDs & NightBeacon™
EL-4Z
$ 84.95
EternaLight EliteMax Accessories
Item No
Unit Price
EternaLight Black Leather Clip Case
EA-LCC
$ 14.95
Energizer Lithium Replacement Batteries (3)
BL-AAE-3
$ 8.95
EternaLight EliteMax Services
Item No
Unit Price
Gift Wrapping Service - EternaLight
Please allow up to one additional week for delivery.
GW-EL
$ 2.95

Click an Add To Cart or Back Order button to place an item in the shopping cart, for purchase with
your credit card or debit card. Add To Cart items are usually in stock, and typically arrive within
one week. Back Order items aren't always in stock, but usually arrive within just two weeks.
Click a View Cart button to review the shopping cart contents and/or complete your order.
Click any underscored Item No to review the associated product detail page or image.
See the Order Info page for complete details on ordering, payment, and shipping.


----( EternaLight Products )----[ EternaLight EliteMax ]