----( Specialties )----[ Smith & Wesson 2AA Blues ]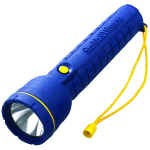 Image of the Smith & Wesson 2AA Krypton Flashlight
Rugged, weather-resistant, industrial-grade conventional flashlights.
Inexpensive yet very nicely made, great stocking stuffers for the kids.
Our specially-priced trio includes three each of the handy 2AA size.

Availability Note: This product has been discontinued by our distribution
channel, and is no longer available from Flashlights Unlimited. However,
these fine flashlights are still made for Smith & Wesson by Powertech Inc.
| | |
| --- | --- |
| | Small flashlight with lanyard, uses two AA-cell batteries. |
| | Rugged, easy-to-grip, textured housing, made of rubber. |
| | Beautiful electric blue color, with bright yellow trim items. |
| | Bright krypton bulb. Reliable push-button power switch. |
| | UL listed (Class I, Div 2) for use in hazardous locations. |
| | Lifetime limited factory warranty by Smith & Wesson. |
Smith & Wesson Flashlights
Item No
Unit Price
Smith & Wesson Blues Solo
Includes One 2AA Flashlight
SW-BS
$ 7.95
Smith & Wesson Blues Trio
Includes Three 2AA Flashlights
SW-BT
$ 19.95
Smith & Wesson Accessories
Item No
Unit Price
Energizer Batteries - Blues Solo Set
Includes Two AA Alkaline Batteries
BA-AAE-2
$ 1.95
Energizer Batteries - Blues Trio Set
Includes Six AA Alkaline Batteries
BA-AAE-6
$ 4.95

Click an Add To Cart or Back Order button to place an item in the shopping cart, for purchase with
your credit card or debit card. Add To Cart items are usually in stock, and typically arrive within
2 weeks. Back Order items are not always in stock, but typically arrive within 2 to 3 weeks.
Click a View Cart button to review the shopping cart contents and/or complete your order.
Click any underscored Item No to review the associated product detail page or image.
See the Order Info page for complete details on ordering, payment, and shipping.


----( Specialties )----[ Smith & Wesson 2AA Blues ]