----( Gerber Products )----[ Gerber Blaze ]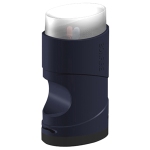 Image of the Gerber Blaze Dual Color LED Tent Light
The white LED provides soft, natural light. Or use the red LED for night vision.
The two mode settings provide up to 150 hours run time from just two AA cells.

The revolutionary Gerber tent lights offer fine features and performance.
Hang the Gerber Blaze with the included lanyard for use as a downlight.
Or set it on a floor or other flat surface for use as a free standing uplight.
Cleaner than candles or gasoline lanterns - no heat, no mess, no fumes.

Availability Note: This model has been discontinued by the manufacturer.
| | |
| --- | --- |
| | One bright white LED provides soft, natural lighting. |
| | Or use the single red LED for night vision retention. |
| | Two mode settings deliver up to 150 hour run time. |
| | Operates from just two AA alkaline or lithium batteries. |
| | Batteries are not included, lithiums are recommended. |
| | Durable, weather-resistant, black polycarbonate body. |
| | Three-position rocker switch. Removable diffuser lens. |
| | 4.5 inches high and 2.5 inches wide. Weighs 3 ounces. |
| | Includes a sturdy fabric lanyard. Assembled in the USA. |
| | Manufacturer's list price: $39.00. Our price: just $29.95. |
| | Lifetime limited warranty from Gerber Legendary Blades. |
Gerber Blaze Tent Lights
Item No
Unit Price
Blaze Tent Light - 1 Red & 1 White LED
GLB-BLZ
(80051)
$ 29.95
Gerber Blaze Accessories
Item No
Unit Price
Energizer Alkaline AA Batteries (2)
BA-AAE-2
$ 1.95
Energizer Lithium AA Batteries (2)
BL-AAE-2
$ 5.95

Click an Add To Cart or Back Order button to place an item in the shopping cart, for purchase with
your credit card or debit card. Add To Cart items are usually in stock, and typically arrive within
one week. Back Order items are not always in stock, but typically arrive within 2 to 3 weeks.
Click a View Cart button to review the shopping cart contents and/or complete your order.
Click any underscored Item No to review the associated product detail page or image.
See the Order Info page for complete details on ordering, payment, and shipping.


----( Gerber Products )----[ Gerber Blaze ]