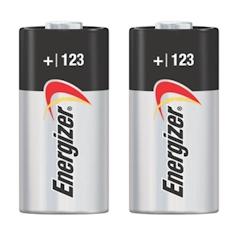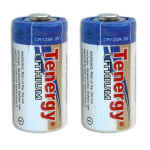 Images of the Energizer 123 and Tenergy Propel CR123A Lithium 3V Batteries
Brand name 3-volt lithium photo batteries, packaged in blister cards or bulk boxes.
These batteries have a ten-year shelf life, and work well at very low temperatures.
High energy capacity and high drain rate, for the most demanding applications.

Fits all of our FU-405B and FU-405R flashlights, as well as the discontinued
INOVA X5 Deep Purple and Surefire® Fluorescenator 260 flashlight models.
Long-life replacements for INOVA X5, XO, XO2, XO3, T1, T2, T3, T5, or 24/7.
Fits the ASP Triad series, Beamshot TH10, and certain Streamlight flashlights.
Fits all SureFire flashlights (except rechargeables) and many other tactical lights.

Click the following link to view or download the engineering data for this battery:
123.PDF. Open this file with Adobe Acrobat (or with the Adobe Acrobat Reader
program, which can be downloaded at no charge from the Adobe Systems web site).

Shipping Note: In accordance with the latest revisions of regulations regarding
the air transport of lithium batteries, some larger orders can be shipped only by
surface methods. Federal safety regulations restrict airborne transportation of
uninstalled lithium primary batteries in certain sizes or quantities, because they
may become extremely hazardous when damaged. We will select appropriate
delivery methods for each order. Please contact us if you have any questions.
Popular high-power long-life battery for electronic cameras.
Used in most models of lithium-powered tactical flashlights.
Light weight, small size, operates in sub-zero temperatures.
Efficient Lithium / Manganese Dioxide (Li/MnO2) chemistry.
3 Volt nominal output, 1300 milliAmpHour minimum capacity
(all of our brands above are rated higher, 1400 to 1500 mAH).
Size is 16.5mm x 34.0mm ±0.5mm. Unit weight is 16g to 17g.
Extended shelf life (10 years plus, less than 1% loss per year).
Superior hot and cold performance (-20°C to 60°C operating).
Tolerates high drain rates and provides ultra-fast recycle time.
Protected from discharge overload by an internal PTC device
(even our lowest cost brands include this important protector).
| | |
| --- | --- |
| | Duracell is type number 123 or DL123A. |
| | Energizer is type number 123 or EL123A. |
| | Kodak is type number K123LA. |
| | Maxell is type number CR123A. |
| | Rayovac is type number RL123A. |
| | Sanyo is type number CR123A. |
| | SureFire is type number SF123A. |
| | Tenergy is type number CR123A. |
| | Titanium is type number CR123A. |
| | Tysonic is type number CR123A. |
| | ANSI/NEDA equivalent type number is 5018LC. |
| | IEC equivalent type number is CR17345. |