Images of the Ultralife U9VLJP battery and foil package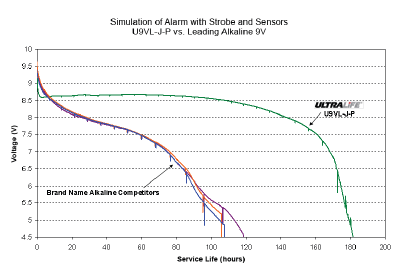 Battery Life Comparison - Ultralife lithium vs alkaline 9V
Fresh Ultralife Lithium electronic/medical batteries, in air-tight sealed pouches.
Long-life premium replacement battery for PALight and Rigel Systems flashlights.
An excellent battery for smoke detectors, electronic microphones, or portable radios.

This is the latest second-generation Ultralife 9V battery. New thin-cell construction
allows a metal outer jacket, while maintaining the standard 9V battery dimensions.

Twice the rated rated capacity of a quality alkaline 9V battery, plus improved
high-drain performance, lasts up to five times as long depending upon application.

Regardless of the application, these lithium cells will operate to well below the
freezing point, making them perfect for use in frigid climates or refrigerated areas.

Click the following link to view or download the engineering data for this battery:
U9VLJP.PDF. Open this file with Adobe Acrobat, or the latest Adobe Reader
program which can be downloaded for free from the Adobe Systems web site.

Shipping Note: In accordance with the latest revisions of regulations regarding
the air transport of lithium batteries, some larger orders can be shipped only by
surface methods. Federal safety regulations restrict airborne transportation of
uninstalled lithium primary batteries in certain sizes or quantities, because they
may become extremely hazardous when damaged. We will select appropriate
delivery methods for each order. Please contact us if you have any questions.
For the latest postal regulations, click here: LithiumBatteryMailabilityChart.PDF.

Never short-circuit the terminals of this battery or allow cross-over with another battery.
This can trigger an internal safety mechanism that will permanently disable the battery.
Replaces standard 9V radio battery size.
Excellent for long life in smoke detectors.
Ultralife type number is U9VLJP-FP
(this specifies foil pouch packaging).
Equivalent to ANSI/NEDA 1604LC.
9 Volt, 1200 MilliAmpHour capacity.
Twice the power capacity of alkaline,
and it can last up to five times longer.
Constructed with thin-cell technology.
Internal safety shutdown mechanism
plus a resettable PTC load protector.
Extended shelf life of up to ten years.
New stainless steel outer jacket, but
now matches the standard 9V sizing.
Minimal magnetic signature for both
cells and stainless steel outer jacket.
Much lighter in weight than alkaline
(maximum unit weight is 37 grams).
Superior hot and cold performance
to all other 9V battery technologies.
Wide operating temperature range:
-40°C to +60°C (-40°F to +140°F).
Made in USA.