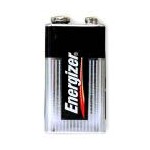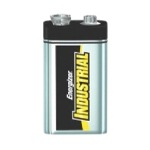 Images of the Energizer 522 and Energizer EN22 Alkaline 9V Batteries
Energizer Alkaline Max or equivalent batteries, in snap-lock bags or boxes.
Long-life standard replacement battery for PALight and Rigel Systems flashlights.
Fits many portable radios, smoke detectors, remote control toys, and test instruments.

Click the following link to view or download the engineering data for this battery:
522.PDF. Open this file with Adobe Acrobat (or the free Adobe Acrobat Reader
program, which can be downloaded at no charge from the Adobe Systems web site).
High-performance lithium batteries are also listed below for comparison and purchase.
Standard size 9V, type 522 consumer labeled (or
we may substitute EN22 industrial labeled product,
same great battery, freshly dated, silver & black label).
Equivalent to ANSI/NEDA type 1604A or IEC type 6LR61.
9 Volt nominal output, 625 MilliAmpHour capacity.
Max dimensions 0.689" x 1.043" x 1.909".
Unit weight 45.6 grams or 1.6 ounces.
Zinc / Manganese Dioxide chemistry.
No added Mercury or Cadmium.
Long shelf life (up to 5 years).
Low cost, high performance.