----( Coleman Products )----[ Coleman Retro Rechargeable Lantern ]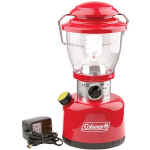 Image of the Coleman Retro Rechargeable Family Size Lantern
Coleman's new spiral-tube fluorescent lantern recharges from AC or DC.
Delivers up to six or nine hours of cool white light from a fresh full charge.
Modern fluorescent technology, combined with handsome Retro styling.

Spare Parts: We have replacement AC and DC chargers in stock for this model.
We also have the special replacement battery (which Coleman no longer offers),
but the proprietary spiral fluorescent tube has been discontinued by the factory.
See the Accessories area of the Pricing section below for available spare parts.
| | |
| --- | --- |
| | Flameless electric lantern stays cool to the touch even after hours of use. |
| | 11-Watt fluorescent spiral tube efficiently provides brighter, whiter light. |
| | Heavy-duty design & construction, weather-resistant, shatter-resistant. |
| | Quick-release fluorescent tube can be easily replaced without tools. |
| | Recharges from 12VDC auto outlet or 120VAC household outlet. |
| | Both recharging cords are included and stored in lantern base. |
| | Emergency circuit lights automatically during power failures. |
| | Built-in amber-color nightlight scares away the monsters. |
| | Adjustable light output helps conserve battery power. |
| | Runs for up to 6 hours on high, up to 9 hours on low. |
| | Rust-resistant carrying handle provides portability. |
| | One-year limited factory warranty from Coleman. |
Coleman Retro Lanterns
Item No
Unit Price
Coleman Retro Rechargeable Lantern (Red)
CM-RRE
(5312-750)
$ 39.95
+ $ 4.00
Coleman Lantern Accessories
Item No
Unit Price
Coleman 11-Watt Daylight
Fluorescent Spiral Tube
Color temperature 6500°K Daylight
Please take expired tubes to a recycling center.
To locate a recycling center near you, click here.
This spare part has been discontinued by the factory,
and is no longer available for sale. Coleman has now
refused to reinstate this part due to its high minimum
order quantity. No generic substitute tube is available
but we are currently testing 13-Watt substitute tubes.
CA-RRS
(5312-1021 or
5010000244)
$ 8.95
Replacement 12V Nightlight Bulb
This small screw-based bulb is for the nightlight, and
can be found under the yellow & black nightlight cap.
No longer available from the factory, our replacement
bulb provides similar brightness and battery run time.
CA-NLB
(replaces
5357-129)
$ 1.95
Replacement Nightlight Lens Cap
CA-RRC
(5312-132)
$ 2.95
Replacement 12VDC Charger Adapter
For vehicle cigarette lighter outlet.
CA-RRD
(5312-1101
or 5327-1101)
$ 6.95
Replacement 120VAC Charger Adapter
For domestic linepower wall outlet.
This spare part has been discontinued by the factory,
and is no longer available for sale. Use our new high-
efficiency multi-voltage charger adapter, listed below.
CA-RLA
(5312-1151
or 5327-1151)
$ 13.95
Multi-Voltage 100-240VAC Charger Adapter
Note: This item is an engineered substitute, and
not a Coleman branded factory replacement part.
Similar to unit above, but this model can also run
on 100VAC to 240VAC for international use (see
the kit below if you need plugs for foreign outlets).
Smaller size, lighter weight, cooler running, much
more efficient than the original Coleman chargers.
This is the latest Energy Star Level VI technology.
TM-RLU
(replaces
5312-1151 and
5327-1151)
$ 11.95
International Charger Adapter Plug Kit
Three power adapter plugs packaged in a sturdy box.
Fused and grounded plug for UK, China, Hong Kong.
Unfused ungrounded plug for Europe, South America.
Unfused ungrounded plug for Australia, New Zealand.
Use only with our Multi-Voltage charger, listed above.
Do NOT use with Coleman factory supplied chargers
as they cannot be operated from 240VAC line power.
7S-IPK
$ 5.95
Replacement Rechargeable 12V Battery
Note: This item is an engineered substitute, not
a Coleman original replacement part, but it is an
exact match for mechanical & electronic specs.
To view the new rechargeable battery, click here.
Color and markings may vary from those shown.
This battery is no longer available from Coleman.
Please take the old battery to a recycling center.
To locate a recycling center near you, click here.
PS-RRB
(replaces
5312-1001)
$ 18.95
+ $ 3.00 *

Click an Add To Cart or Back Order button to place an item in the shopping cart, for purchase with
your credit card or debit card. Add To Cart items are usually in stock, and typically arrive within
one week. Back Order items are not always in stock, but typically arrive within 2 to 3 weeks.
Click a View Cart button to review the shopping cart contents and/or complete your order.
Click any underscored Item No to review the associated product detail page or image.
See the Order Info page for complete details on ordering, payment, and shipping.
Due to size and weight, lantern is subject to a $4.00 additional handling charge.
* Due to heavy weight, a $3.00 additional handling fee applies to this battery.


----( Coleman Products )----[ Coleman Retro Rechargeable Lantern ]